What are the advantages of melamine tableware?
1. Pretty as ceramics,but lightweight design
Melamine tableware looks as good as traditional pottery, while enjoying all the other advantages of melamine. It strikes a balance between retaining the advantages of imitation ceramics and surprisingly lightweight design.

For example, a typical melamine board is much lighter than an equivalent ceramic board and is more durable. From the perspective of a restaurant, serving food is much easier. This is good news for waiters!
2. Wear-resistant, scratch-resistant, long service life
One of the biggest advantages of melamine tableware is its abrasion resistance and scratch resistance. Thanks to the strength of the material, it can drop and hardly break, making it an ideal tableware choice for any place such as bars, nursing homes, schools, etc. In the long run, lower expenditures, reduced costs and potential additional profits.

However, although melamine is more scratch resistant than traditional pottery, this does not mean that it can be abused. The serrated knife will still damage it, and abrasive cleaning agents should be avoided when cleaning. Treating it correctly will last a long time using.
3. Good heat resistance, not easy to transfer heat
Even if hot food is poured into melamine tableware, melamine still maintains the feeling of normal temperature.

This not only ensures the convenience of the waiter serving dishes, but also ensures the safety of the diners, reducing the possibility of burns on the table.

It makes melamine tableware a particularly good choice when catering to young diners.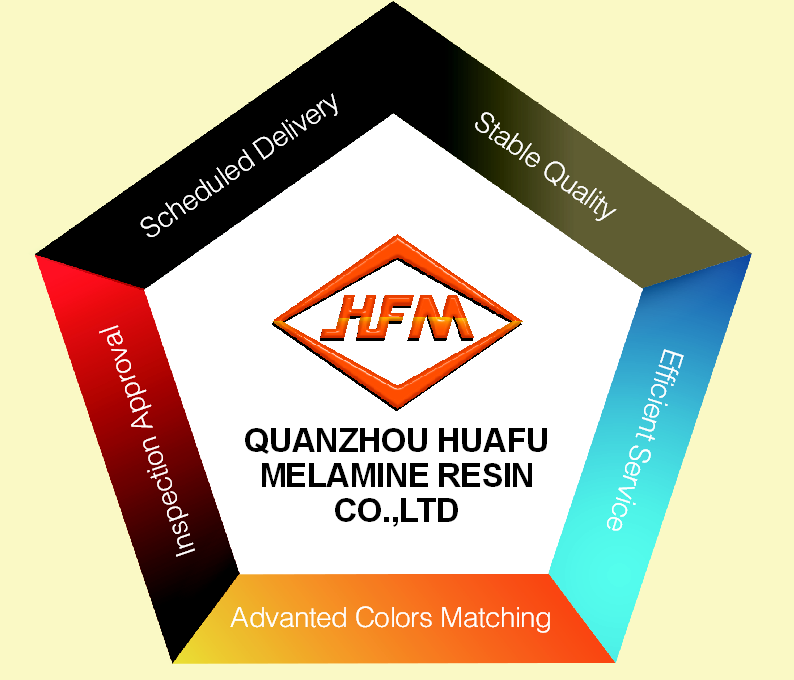 SGS Report:
The testing result of submitted sample (MELAMINE DISC)
Test Requested

Conclusion

Commission Regulation (EU) No 10/2011 of 14 January 2011 with amendments

-Overall migration

PASS

Commission Regulation (EU) No 10/2011 of 14 January 2011 with

amendments-Specific migration of melamine

PASS

Commission Regulation (EU) No 10/2011 of 14 January 2011 and Commission

Regulation (EU) No 284/2011 of 22 March 2011-Specific migration of

formaldehyde

PASS

Commission Regulation (EU) No 10/2011 of 14 January 2011 with amendments

-Specific migration of heavy metal

PASS
Physical property:
PRODUCT

APPLICATION

APPERANCE

DENSITY
( g / cm2 )

MOISTURE
( %free water )

DISC FLOW
( MM )

CURING TIME
( at 170 ˚c )

LG240/LG220

- coating

White
powder

0.38 - 0.44

3.0 Max

130 - 140 *

20 - 30

LG2501

- coating
- Bushing on
decorative foil paper

White
powder

0.20 - 0.25

3.0 Max

125 - 140 *

15 - 25
TYPE

ITEM

UNIT

CONDITION

COMPRESSION

Mold Temperature

˚c

165 ± 5

Mold Pressure

kg / cm2

150 - 200

Is melamine tableware microwave safe?
Like many plastics, melamine cannot be used to heat food in a microwave or oven. Doing so may damage your melamine tableware and may even contaminate your food.
Conversely, if you want to heat food in a microwave oven, first heat it in a dedicated microwave container. Then, change it to the melamine tableware.

The built-in heat resistance of melamine tableware can protect your (and your customers') hands from the heat of food with high temperature.
Factory Tour: