Colorful Melamine Formaldehyde Resin Powder is commonly known as melamine powder. It's mainly used for making melamine tableware and also for other products. At present, the technology of melamine powder and tableware manufactured in China is mature and mainly exported to Europe, America, Japan and Korea. It can pass the relevant standards of EU, US FDA and Chinese standard on melamine tableware and food packaging.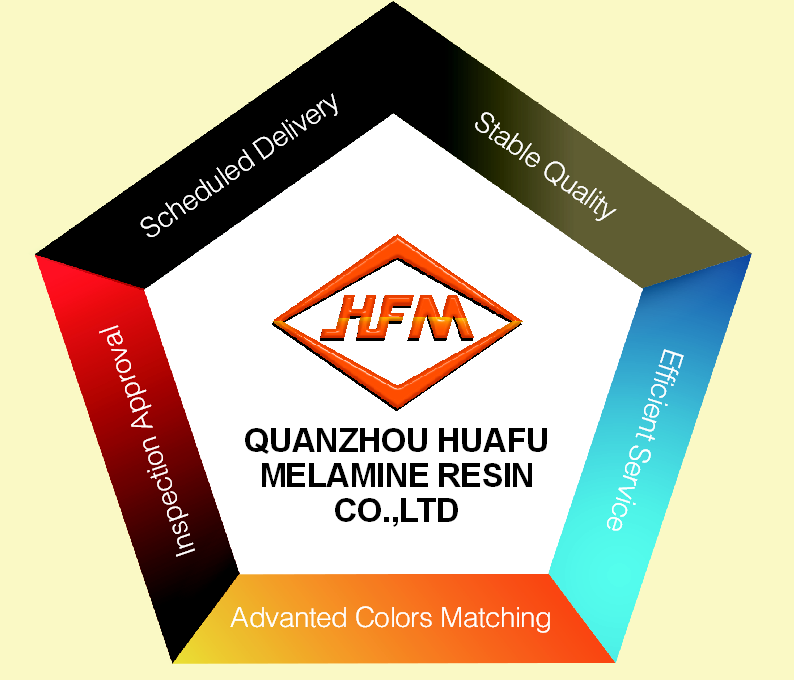 Intertek Report:
Specific Migration Of Formaldehyde Test For Plastic Food Contacting Materials/Articles
As per commission regulation (EU) NO. 10/2011 and Amendment (EU) 2016/1416 of 24 August 2016, selection of test condition & food simulants by EN13130-1.
Ⅰ.Test Condition:
Temperature: °C Time : days/ hours/ minutes
Ⅱ. Test Result:
Food simulant Result (mg/kg) Limit (mg/kg)
(1)
3% (w/v) Acetic acid <5# 15
Remark:Detection limit = 5 mg/kg
ND= Not detected
# = The result was based on the third extraction test
Physical property:
Urea-formaldehyde moulding plastics and melamine-formaldehyde moulding plastics granule products can be molded by molding and injection. Melamine tableware is made from melamine powder through high temperature and high pressure. The tableware can be used in the high temperature above 100 degrees for a long time because of its thermal deformation temperature up to 180 degrees.
Property

Unit

Compression

Injection

Appearance

-

Powder / Granular form

Granular form

Specific Gravity

-

1.45-1.55

1.45-1.55

Bending Strength

Mpa

79.0 Min.

79.0 Min.

Charpy Impact Strength

Kj / cm2

2.0 Min.

2.0 Min.

Water Absorption

%

0.8 Max.

0.8 Max.

Insulation Resistance

10

10

Disc Flow

(2g material, at 140˚c)

mm.

87 Min.

105 Min.

Curing Time

(2g material, at 140˚c)

sec.

100 Min.

140 Min.
| | | | |
| --- | --- | --- | --- |
| TYPE | ITEM | UNIT | CONDITION |
| COMPRESSION | Mold Temperature | ˚c | 160 - 165 |
| | Mold Pressure | Kg / cm2 | 150 - 200 |
| | Barrel Zone Temperature | ˚c | 60 - 80 |
| | Barrel Front Zone Temperature | ˚c | 80 - 100 |
Advantages:
Melamine Moulding Compound finished wares with surface hardness unsurpassed by any other plastics. Molded parts have excellent resistance to abrasion, boiling water, detergents, weak acids and weak alkalis as well as acidic foods and extracts.
Applications:
Melamine Molding Powder is particularly well-suited for molding food contact products, including quality dinnerware for domestic and commercial food service. Melamine Molding Compound molded articles are specifically approved for food contact. Additional applications include Serving Trays, Buttons, Ashtrays, Pharmaceutical Closures, Wiring Devices, Cutlery and Kitchen utensil handles. Adding decorative overlays during the molding cycle can enhance the appearance of the molded articles.

Storage:
1. Store in a cool,dry and ventilated storehouse away from moisture
2. Avoid handling or transporting together with acidic or alkaline substances
3. Prevent the material from rain and insolation
4. Load and unload carefully and protect from package damage
5. In the event of a fire,use water,soil or carbon dioxide fire extinguishing media
Factory Tour: