Melamine Molding Compound like marble is one type of melamine moulding compound which is always in granule form.
The final product looks like porcelain tableware becuase of its high density and good shining.

It has the characteristics of water resistance, high temperature resistance, non-toxicity, bright color and convenient molding.

Melamine molding comound is widely used in all kinds of melamine tableware, containers, electrical parts and other molding products.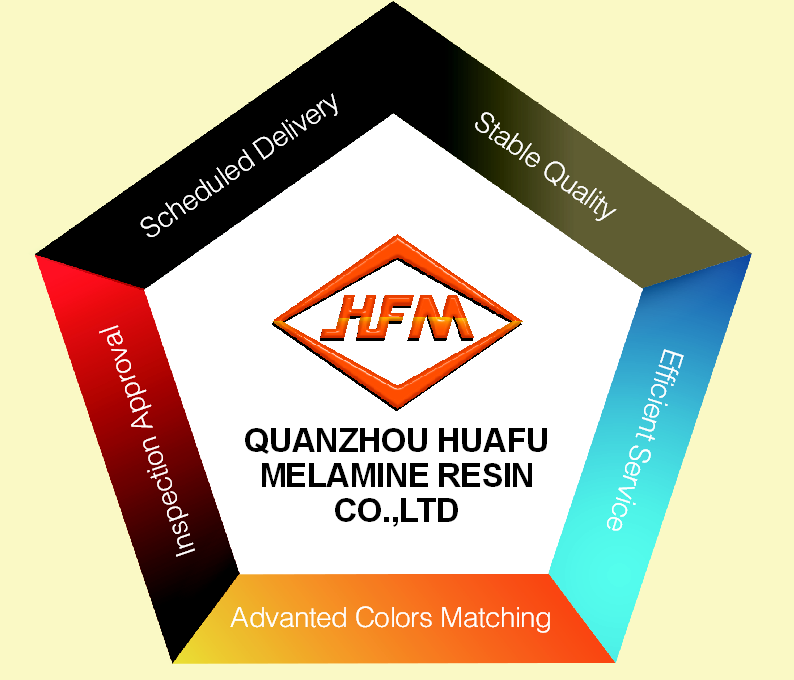 SGS Report: No. SHAHG1810561301 Date: 04 Jun 2018
The testing result of submitted sample (White Melamine Plate)
Test Method: With reference to Commission Regulation (EU) No 10/2011 of 14 January 2011 Annex III and
Annex V for selection of condition and EN 1186-1:2002 for selection of test methods;
EN 1186-9: 2002 aqueous food simulants by article filling method;
EN 1186-14: 2002 substitute test;
Simulant used

Time

Temperature

Max. Permissible Limit

Result of 001 Overall migration

Conclusion

10% Ethanol (V/V) aqueous solution

2.0hr(s)

70℃

10mg/dm²

<3.0mg/dm²

PASS

3% Acetic acid (W/V)

aqueous solution

2.0hr(s)

70℃

10mg/dm²

<3.0mg/dm²

PASS

95% Ethanol

2.0hr(s)

60℃

10mg/dm²

<3.0mg/dm²

PASS

Isooctane

0.5hr(s)

40℃

10mg/dm²

<3.0mg/dm²

PASS
Physical property:
Melamine Moulding Powder is based on colourless thermosetting resin which is condensation product of either urea or melamine with formaldehyde. This resin is combined with high purity alpha cellulose filler, pigments, catalyst and other additives to give the range of materials.
Advantages:
Melamine formaldehyde resin is hard, scratch resistance, colorless, translucent and so on. After adding filler, it can be made into colorful products. Because of the good water resistance, high temperature resistance, oil resistance and dielectric performance, it is widely used in plastic processing, coating, wood, paper, textile and other industries.
Applications:
1.Fine and colorful tableware
2.Kitchenware, children's dinnerware
3.Kitchen utensil handles
4.Serving trays, buttons and ashtrays
5.Electrical fittings and wiring devices

Storage:
1. Store in a cool,dry and ventilated storehouse away from moisture
2. Avoid handling or transporting together with acidic or alkaline substances
3. Prevent the material from rain and insolation
4. Load and unload carefully and protect from package damage
5. In the event of a fire,use water,soil or carbon dioxide fire extinguishing media
Factory Tour: