Melamine Formaldehyde Resin Powder is made of melamine formaldehyde resin, adding inorganic fillers and fibers by mixing and kneading shear, then get semi-finished grains from drying, sieving through crushing grinding. HuaFu Melamine has the best quality of melamine molding compound in the industry.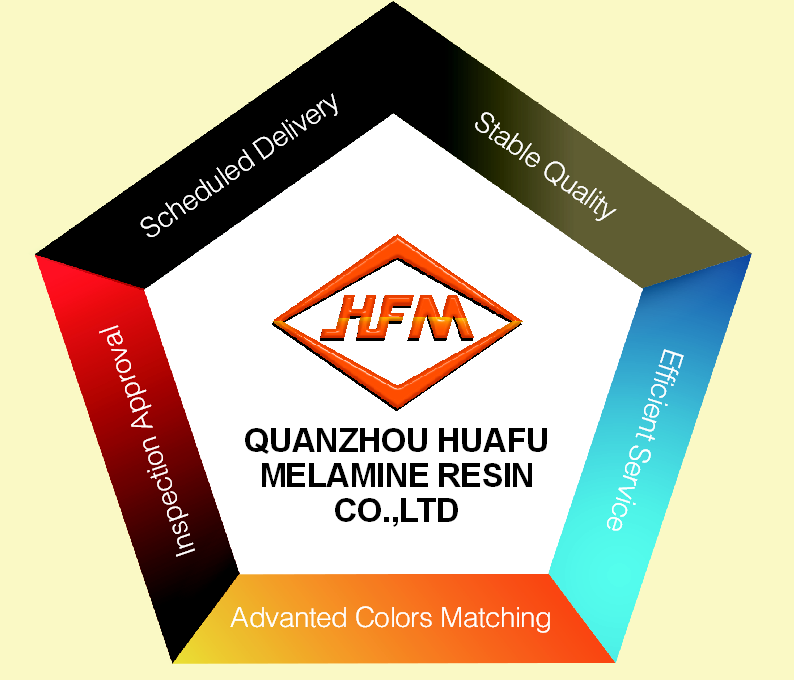 Intertek Report:
Specific Migration Of Metal For Plastic Food Contacting Materials/Articles
As per commission regulation (EU) NO. 10/2011 and Amendment (EU) 2016/1416 of 24 August 2016, selection of test condition & food simulants by EN13130-1.
Ⅰ. Condition of contact in actual use
Temperature: ≤70 °c Time:≤2 hours
Ⅱ. Test Condition
Food Simulant Temperature Time
(1) (1)
3% (w/v) acetic acid 70° c 2 hours
Ⅲ. Test Result
Food Simulant Element Result (mg/kg) Limit (mg/kg)
3% (w/v) acetic acid Barium <0.1 1 (max.)
In aqueous solution Cobalt <0.03 0.05 (max.)
Copper <1 5 (max.)
Iron <5 48 (max.)
Lithium <0.1 0.6 (max.)
Manganese <0.1 0.6 (max.)
Zinc <1 5 (max.)
Aluminum <0.1 1(max)
Physical property:
Melamine moulding compound in powder form are based on melamine-formaldehyde resins fortified with high-class celluloses reinforcement and further modified with minor amounts of special purpose additives, pigments, cure regulators and lubricants.
Advantages:
It has the advantages of heat-resistant (120 C), oil-resistant, alcohol-resistant, pollution-resistant. Health problems: Melamine formaldehyde resin itself is non-toxic. However, it contains a certain amount of free formaldehyde. It can pass the relevant detection through appropriate proportion, mature technology.
Applications:
It's non-toxic, anti-pollution, can still maintain good electrical performance when wet. It can be made into white, anti-fall daily utensils, sanitary ware and imitation porcelain tableware, electrical equipment and other advanced insulation materials.

Storage:
KEEP in a dry and clean place. Be careful to keep it away from the moisture and fire and out of children's reach.
Factory Tour: