Why Choose us? Efficient Service
1. Pre-sales Service
We have 24-hour online consultation service and detailed FAQ to answer questions for customers professionally. If customer develops a new color, he should provide pictures, sample powder or Pantone color card. Then our R&D Department will start to conduct color test and develop new colors for customers. For normal color, it needs 7 working days while special color and requirement it needs 12 working days. After that, we will send the specific color card or 2KG free sample powder to customer.
Our company will keep the same color shade for customers. It can save time to confirm the color with old customers which greatly improves the production efficiency and wins the market competitiveness for the customer.
2. In-sale Service
After receiving the order, sales department start the delivery negotiation in 3 working days according to the factory site conditions, the customer's request, the order quantity, the difficulty of making the order. After the negotiation is reached, the delivery will be scheduled on time until we complete the order. In the event of an unexpected situation, the customer will be notified firstly for protecting customer's rights.
According to the order quantity, the delivery time of the common color melamine moulding compound will be within 5 days; while multi-color mixing, the delivery time will be within 10 days.
In addition, we will pay attention to the cargo transportation process to make sure the goods arrive on time safely.
3. After-sales Service
24-hour online consulting service and detailed FAQ for self-help. For new customers, if you meet problems like unfamiliar raw material or machine parameter debugging, we have professional docking personnel to answer customers promptly. There is no worry of the production delay.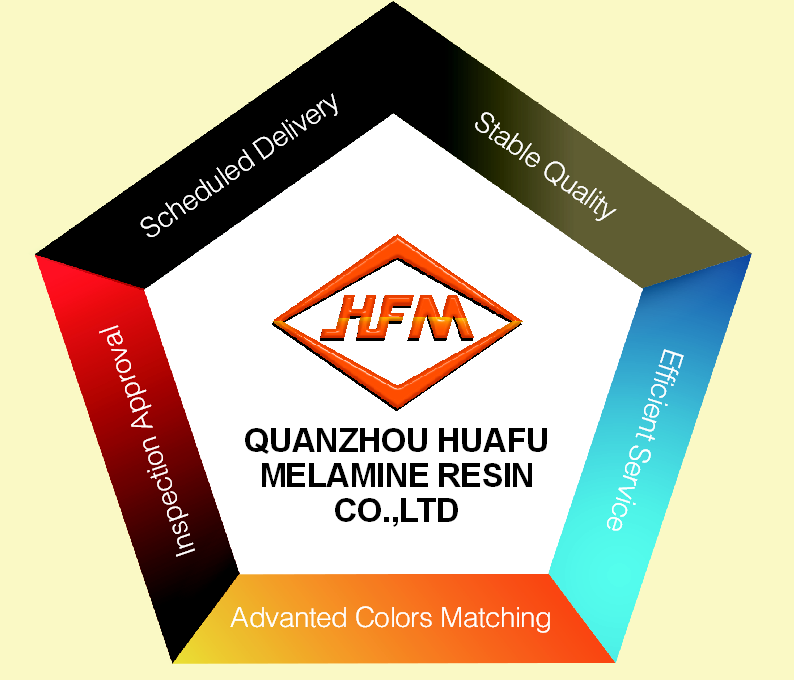 Physical property:
Property

Unit

Compression

Injection

Appearance

-

Powder / Granular form

Granular form

Specific Gravity

-

1.45-1.55

1.45-1.55

Bending Strength

Mpa

79.0 Min.

79.0 Min.

Charpy Impact Strength

Kj / cm2

2.0 Min.

2.0 Min.

Water Absorption

%

0.8 Max.

0.8 Max.

Insulation Resistance

10

10

Disc Flow

(2g material, at 140˚c)

mm.

87 Min.

105 Min.

Curing Time

(2g material, at 140˚c)

sec.

100 Min.

140 Min.
Molding Condition
| | | | |
| --- | --- | --- | --- |
| TYPE | ITEM | UNIT | CONDITION |
| COMPRESSION | Mold Temperature | ˚c | 160 - 165 |
| | Mold Pressure | Kg / cm2 | 150 - 200 |
| | Barrel Zone Temperature | ˚c | 60 - 80 |
| | Barrel Front Zone Temperature | ˚c | 80 - 100 |
Advantages:
The cured melamine formaldehyde resin is colorless and transparent, stable in boiling water, and can even be used at 150 °C. It has self-extinguishing property, arc resistance and good mechanical properties.
Applications:
The melamine resin is added to the inorganic filler to form a molded product, which is rich in color and is mostly used for decorative plates, tableware, and daily necessities. The appearance of the tableware resembles porcelain or ivory, which is not easy to be brittle and suitable for mechanical washing. The melamine resin is mixed with a urea-formaldehyde resin to form an adhesive for the manufacture of a laminate. The melamine resin modified with butanol can be used as a coating and a thermosetting lacquer and so on.

Storage:
1. Store in a cool,dry and ventilated storehouse away from moisture
2. Avoid handling or transporting together with acidic or alkaline substances
3. Prevent the material from rain and insolation
4. Load and unload carefully and protect from package damage
5. In the event of a fire,use water,soil or carbon dioxide fire extinguishing media
Factory Tour: