Melamine Powder is also known as melamine resin molding powder. It's used to produce melamine tableware, imitation porcelain tableware, imitation marble tableware, medium and low voltage electrical appliances, flame retardant products,which are non-toxic and environmentally friendly, and is currently favored by customers.
The A5 melamine powder produced by our company has good material properties. The tableware made with our products is not deformed by boiling water, while A1 and A3 are easily deformed. The properties of melamine resin molding powder are as follows: non-toxic, bright color, high temperature resistance, water resistance, convenient processing and molding, and most of them are used in various types of tableware, containers, electrical parts and other molded products at home and abroad.
Our granules of melamine powder cater to all kinds of imitation marble tableware that are popular today. We can modulate different color powder according to customers' requirements. It is one of the raw material factories in China that make imitation marble and imitation jade.
Characteristics: The product has excellent processing technology performance. The processed product has beautiful appearance, stable chemical properties, non-toxicity, stain resistance, corrosion resistance, good mechanical properties, resistance to breakage, and flame retardant and fireproof; high temperature resistance: 5min/ 120 ° C.
Uses: Melamine resin molding powder is widely used in the production of various melamine tableware for hotels, schools, fast food restaurants and families etc. It can also produce fireproof, explosion-proof, arc-resistant appliances and other non-toxic plastic product.
Our Advantages: The melamine powder produced by our company has a good density of tableware, high brightness, and the molding product is flat and beautiful. While products made from A1 and A3 are not smooth, not beautiful, and uneven. The tableware made with our powder has a high dosage and a high yield.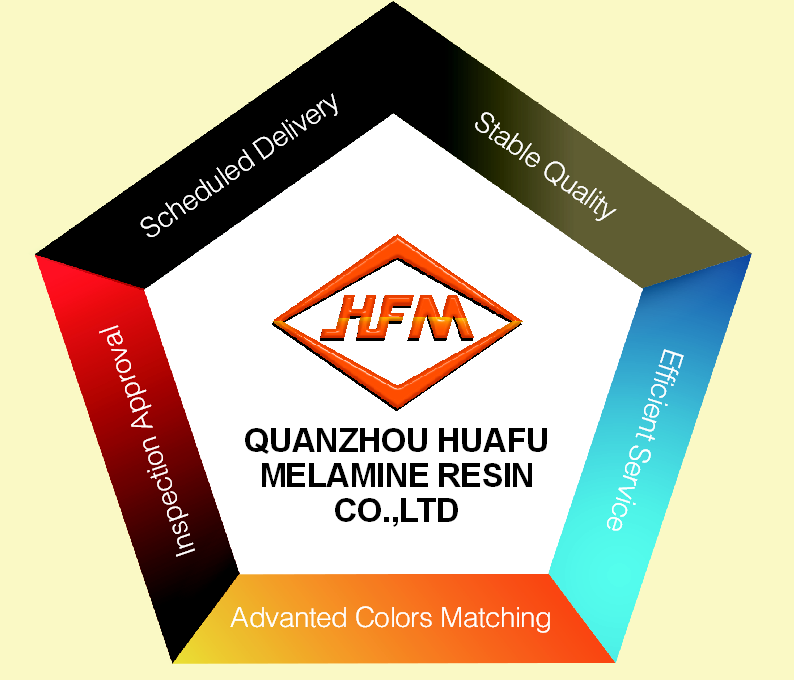 Physical property:
Property

Unit

Compression

Injection

Appearance

-

Powder / Granular form

Granular form

Specific Gravity

-

1.45-1.55

1.45-1.55

Bending Strength

Mpa

79.0 Min.

79.0 Min.

Charpy Impact Strength

Kj / cm2

2.0 Min.

2.0 Min.

Water Absorption

%

0.8 Max.

0.8 Max.

Insulation Resistance

10

10

Disc Flow

(2g material, at 140˚c)

mm.

87 Min.

105 Min.

Curing Time

(2g material, at 140˚c)

sec.

100 Min.

140 Min.
| | | | |
| --- | --- | --- | --- |
| TYPE | ITEM | UNIT | CONDITION |
| COMPRESSION | Mold Temperature | ˚c | 160 - 165 |
| | Mold Pressure | Kg / cm2 | 150 - 200 |
| | Barrel Zone Temperature | ˚c | 60 - 80 |
| | Barrel Front Zone Temperature | ˚c | 80 - 100 |

Storage:
1. Store in a cool,dry and ventilated storehouse away from moisture
2. Avoid handling or transporting together with acidic or alkaline substances
3. Prevent the material from rain and insolation
4. Load and unload carefully and protect from package damage
5. In the event of a fire,use water,soil or carbon dioxide fire extinguishing media
Safety Use of Melamine Tableware:
1. The melamine tableware is not microwaved or cooked.
2. Melamine tableware is less popular with hot, acidic foods. When family eating outside without choice, drink more water, drink less soup.
3. Melamine tableware such as spoons and chopsticks should not be placed in hot soup or in a pot to cook.
4. Melamine tableware can not be washed with melon cloth and steel. After soaking for a while, wash with sponge and rag.
5. Melamine tableware should not be used as long as it has scratches, and must be renewed and not used for hot food.
6. Melamine tableware has been used for many years and should be replaced regularly for 2-3 years due to aging of the material.
7. Avoid buying melamine tableware with irritating odors and prevent the purchase of secondary products with formaldehyde residues.
8. Buy good quality melamine tableware, don't buy products that are unclear and cheap.
Factory Tour: