Huafu Chemicals is the manufacturer for melamine serving tray raw material
1. Appearance: powder
2. MF: C3H6N6
3. Color: various colors,can be customized
4. Purity:100%
5. Density:1.5733g/cm3
6. Melting point:>300 (℃)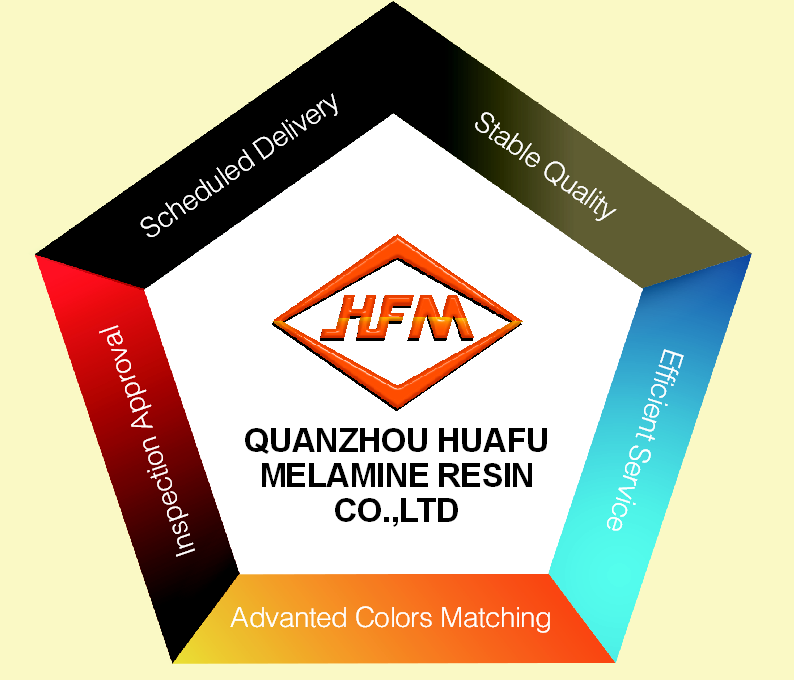 Intertek certificate testing result of submitted sample (MELAMINE DISC)
The conclusion of tested submitted sample (MELAMINE CHILDREN DINNERWARE)
| | |
| --- | --- |
| Standard | Result |
| European Commission Regulation No. 10/2011, Amendment (EU) 2016/1416 of 24 August 2016 and Regulation No. 1935/2004- Overall migration | Pass |
| European commission regulation NO. 10/2011 annex II, Amendment (EU) 2016/1416 of 24 August 2016 and regulation 1935/2004 on specific migration of metal content | Pass |
| European commission regulation NO. 10/2011 annex I, Amendment (EU) 2016/1416 of 24 August 2016 and Regulation 1935/2004 on specific migration of Formaldehyde | Pass |
| European commission regulation NO. 284/2011 on specific migration of Formaldehyde | Pass |
| European commission regulation NO. 10/2011 annex I, Amendment (EU) 2016/1416 of 24 August 2016 and Regulation 1935/2004 on specific migration of Melamine | Pass |
Applications:
Melamine powder is mainly used in the manufacture of melamine, ordinary dehydrated resin. It's resistant to water, heat, arc and light. It can also be used in decorative laminates, aminoplasts, adhesives, coatings and as paper reinforcements, textile auxiliaries, cement water reducers.

Advantage:
Natural and friendly: melamine tableware made with our qualified melamine powder is food-grade and safe.
Durable: The melamine tray is durable and drop-proof and can be safely used in schools, cafeterias, hospitals, and wherever food may be provided. It has the advantage of long-lasting materials and helps reduce replacement costs.

Lightweight:

It has the luster and beauty of ceramics, but it is very light. Can be used in indoor and outdoor activities.

Reusable:

hand wash. Can not be cleaned with steel wire ball, can not be used in the oven or dishwasher.
Storage:
Store in a cool and dry place, away from strong light and high temperature