Melamine powder (A5) has a full range of colors, and Huafu Chemicals can provide various color products according to different requirements of customers.
1. Hard and durable texture;
2. Color matching according to demand;
3. Good gloss, with bright, attractive color;
4. Odorless and tasteless, in line with food hygiene requirements;
5. Heat resistance, boiling water resistance, resistance to various oils, acids, alkalis etc;
6. With excellent insulation properties. Molding conditions will vary depending on product appearance, size, thickness, and whether raw materials have been preheated.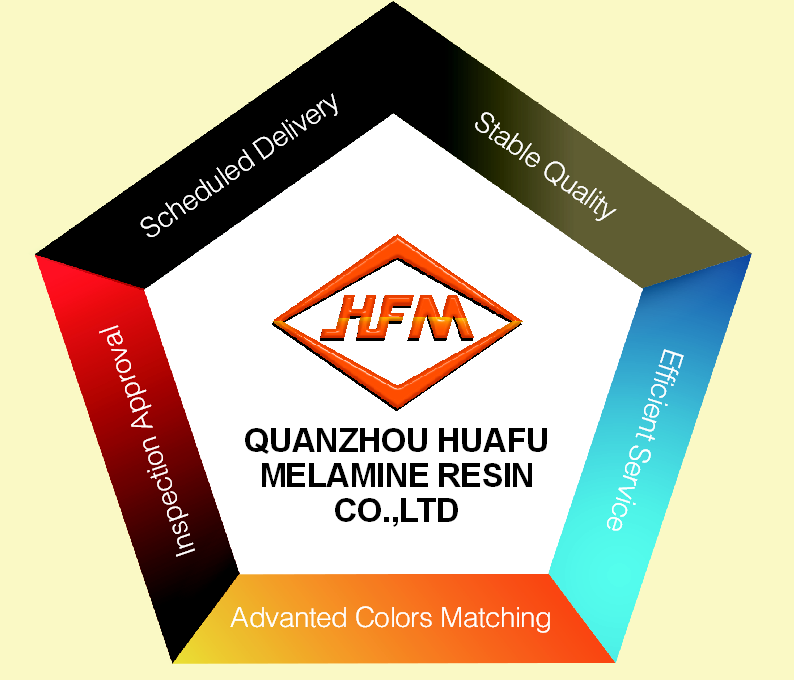 Intertek Report:
Specific Migration Of Metal For Plastic Food Contacting Materials/Articles
As per commission regulation (EU) NO. 10/2011 and Amendment (EU) 2016/1416 of 24 August 2016, selection of test condition & food simulants by EN13130-1.
Ⅰ. Condition of contact in actual use
Temperature: ≤70 °c Time:≤2 hours
Ⅱ. Test Condition
Food Simulant Temperature Time
(1) (1)
3% (w/v) acetic acid 70° c 2 hours
Ⅲ. Test Result
Food Simulant Element Result (mg/kg) Limit (mg/kg)
3% (w/v) acetic acid Barium <0.1 1 (max.)
In aqueous solution Cobalt <0.03 0.05 (max.)
Copper <1 5 (max.)
Iron <5 48 (max.)
Lithium <0.1 0.6 (max.)
Manganese <0.1 0.6 (max.)
Zinc <1 5 (max.)
Aluminum <0.1 1(max)
Applications:
It's non-toxic, anti-pollution, can still maintain good electrical performance when wet. It can be made into white, anti-fall daily utensils, sanitary ware and imitation porcelain tableware, electrical equipment and other advanced insulation materials.

Tips for Restaurants to follow when using melamine tableware
1. Do not use melamine tableware with cracked or damaged surfaces.
2. Use melamine utensils according to product specifications and instructions.
3. Do not use melamine tableware to contain hot oil or highly acidic food.
4. Do not use melamine tableware microwave oven or oven.
5. Do not heat or cook food in melamine tableware.
6. If you want to use melamine tableware to hold hot fried food, please cool the food before putting it in.
7. When cleaning, do not use abrasive cleaners and cleaning tools, otherwise, it will damage the strong chemicals on the surface.
Storage:
KEEP in a dry and clean place. Be careful to keep it away from the moisture and fire and out of children's reach.
Factory Tour: