Why Choose Us?
Huafu Chemicals has the ability to produce the corresponding melamine tableware raw material according to the product process characteristics of the specific country.
If the raw materials are not right, the engineer or the factory worker have to adjust the molding machine, adjust molding temperature, adjust the pressure which is really time-wasting because the factory workers will not be getting used to the new producing process. Nevertheless, this will increase the rate of defective products and that will cause huge loss in labor, time and money. Therefore, it's necessary to find a reliable melamine powder manufacturer like Huafu. We will offer a series of long lasting and one-stop service for you.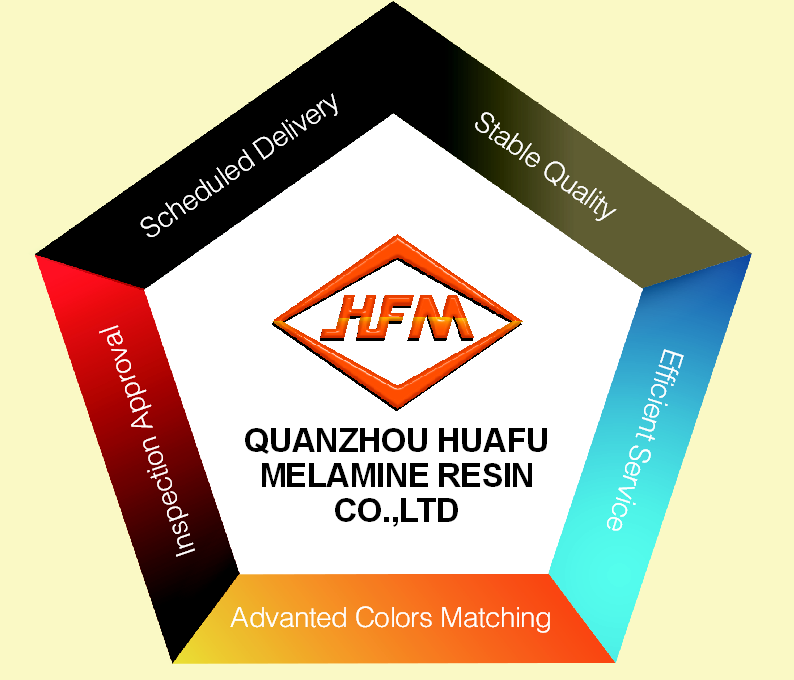 Features:
1. Dishwasher safe and refrigerator safe
2. High-temperature resistance, unbreakable
3. Non-deformation, toxic and odor-free
4. Food safe and scratch-resistant glaze
5. Not for microwave, fire, and oven
Applications:
1. Melamine tableware: melamine bowls, plates, chopsticks, dishes, knives, forks, spoons, children's tableware, camping tableware, canteen tableware, fruit plates, etc.
2. Kitchen appliances: chopping board, heat insulation pad, pot holder, coaster, drinking cup, mug, coffee cup, etc.
3. Pet supplies, such as rice bowls.
4. Other daily products, such as ashtrays, dice, mahjong, dominoes, flowerpots, etc.
5. Electrical appliances, low-voltage electrical appliances, sockets, switches, electrical accessories, etc.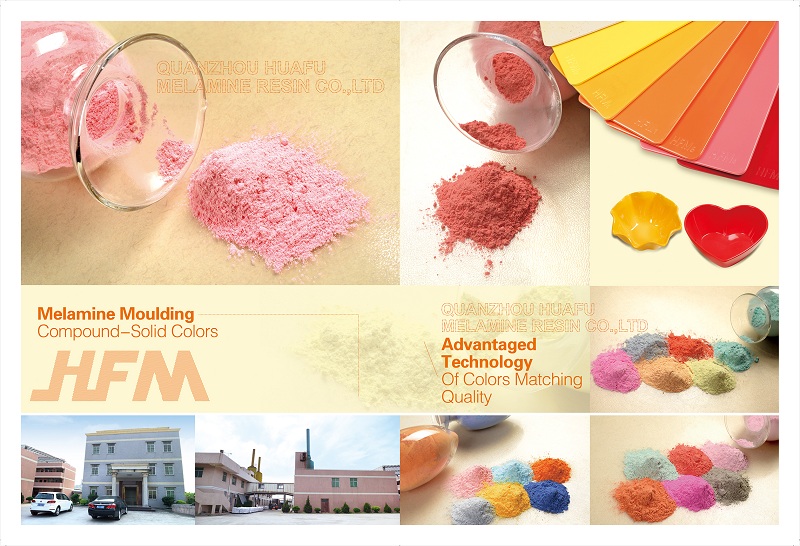 FAQ
Q1: Are you a manufacturer?
We are a factory which is in Quanzhou City, Fujian Province near Xiamen Port. Huafu Chemicals is specialized in producing food-grade melamine molding compound (MMC), melamine glazing powder for tableware.
Q2: Could you customize the color?
Yes. Our R&D Team can match any color you like according to Pantone color or sample.
Q3: Could you make a new color according to Pantone No. in a very short time?
Yes, after we get your color sample, we normally can make a new color in less than one week.
Q4: What are your payment terms?
T/T, L/C, according to customer's request.
Q5: How about your delivery?
Usually 15 days. It depends on the order quantity.