Melamine is mainly used for manufacturing melamine-formaldehyde resin, which is well water, heat and arc resistant and bright.
Melamine Moulding Compound finished wares with surface hardness unsurpassed by any other plastics. Molded parts have excellent resistance to abrasion, boiling water, detergents, weak acids and weak alkalis as well as acidic foods and extracts.
Melamine Moulding Compound is particularly well-suited for molding food contact products, including quality dinnerware for domestic and commercial food service.

Melamine Moulding Compound molded articles are specifically approved for food contact. Additional applications include Serving Trays, Buttons, Ashtrays, Pharmaceutical Closures, Wiring Devices, Cutlery and Kitchen utensil handles. Adding decorative overlays during the molding cycle can enhance the appearance of the molded articles.

Melamine Moulding Compound can be supplied in most colours by Pantone color. Molded products are free from odor, light stable and have good moisture resistance. Hard and Glossy surface with excellent scratch and chemical resistance. duration.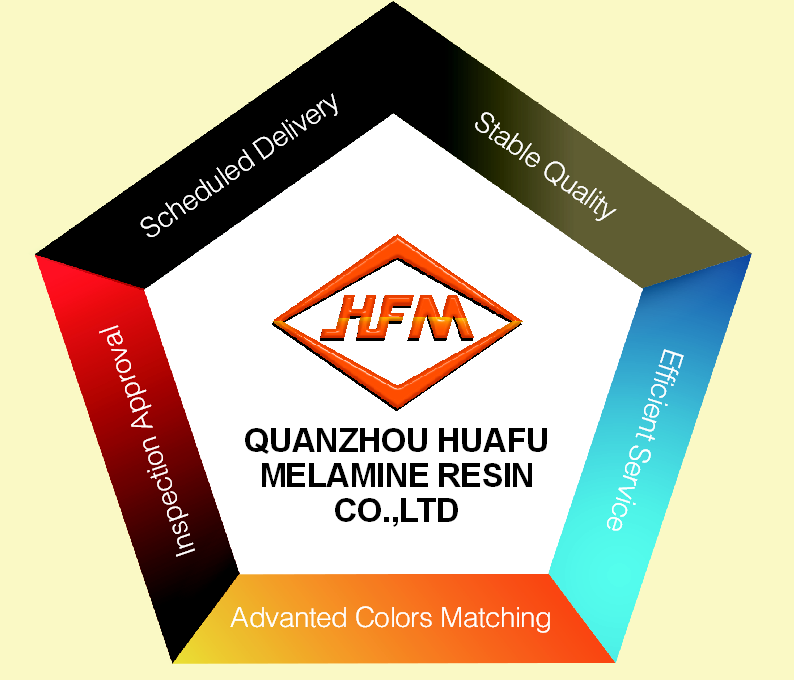 The melamine powder produced by Huafu Chemicals is high-quality 100% pure melamine powder, which is certified by SGS Intertek and recognized by customers home and abroad as the raw material for melamine tableware. The finished tableware is non-toxic, tasteless, beautiful in appearance, and bright in color. Welcome all melamine tableware factories to come for a visit. We will provide you with high-quality raw materials and professional service.
Applications:
1.Fine tableware
2.Kitchenware, children's dinnerware
3.Kitchen utensil handles
4.Serving trays, buttons and Ashtrays
5.Electrical fittings and wiring devices

FAQ:
Q1: Are you a manufacturer?
We are a factory located in Quanzhou, Fujian Province, very close to Xiamen Port. Huafu is a company specializing in the production of melamine powder and glaze powder (MMC), which is the raw material for making melamine tableware.
Q2: Do you provide free sample?
Yes, we supply 2KG free sample powder according to customers' need. But we charge the express fee.
Q3: Can you make new colors based on the Pantone number in a short time?
Yes, after we receive your color sample, we can usually remake the color in less than a week. Our R&D team is very professional and excellent.
Factory Tour: