Why Choose Us?
Huafu Chemicals has the ability to produce the corresponding melamine tableware raw material according to the product process characteristics of the specific country.
If the raw materials are not right, the engineer or the factory worker have to adjust the molding machine, adjust molding temperature, adjust the pressure which is really time-wasting because the factory workers will not be getting used to the new producing process.

Nevertheless, this will increase the rate of defective products and that will cause huge loss in labor, time and money.

Therefore, it's necessary to find a

reliable melamine powder manufacturer

like Huafu. We will offer a series of long lasting and one-stop service for you.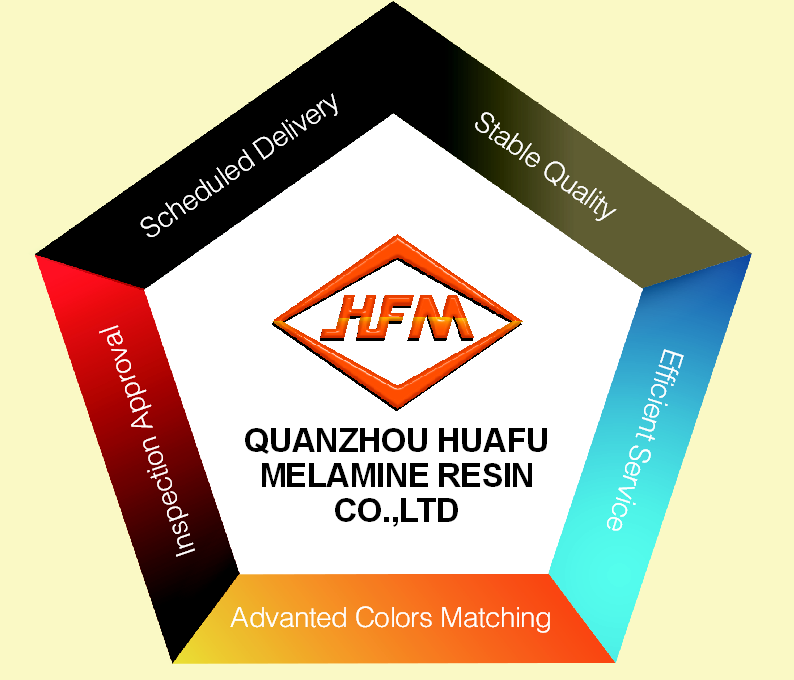 Physical property:
Melamine is a kind of thermosetting plastic with stable chemical properties at room temperature, compact structure and strong hardness. It is mainly used in wood, plastics, coatings and pharmaceutical industries.
Melamine powder in powder form with customized colors available: black, white, yellow, purple, red, ivory, blue, brown, orange, green, etc.
Property

Unit

Compression

Injection

Appearance

-

Powder / Granular form

Granular form

Specific Gravity

-

1.45-1.55

1.45-1.55

Bending Strength

Mpa

79.0 Min.

79.0 Min.

Charpy Impact Strength

Kj / cm2

2.0 Min.

2.0 Min.

Water Absorption

%

0.8 Max.

0.8 Max.

Insulation Resistance

10

10

Disc Flow

(2g material, at 140˚c)

mm.

87 Min.

105 Min.

Curing Time

(2g material, at 140˚c)

sec.

100 Min.

140 Min.
Applications:
1. Melamine tableware:melamine bowls, plates, chopsticks, dishes, knives, forks, spoons, children's tableware, camping tableware, canteen tableware, fruit plates, etc.
2. Kitchen appliances: chopping board, heat insulation pad, pot holder, coaster, drinking cup, mug, coffee cup, etc.
3. Pet supplies, such as rice bowls.
4. Other daily necessities, entertainment products, sanitary products, such as ashtrays, dice, mahjong, dominoes, flowerpots, etc.
5. Electrical appliances, low-voltage electrical appliances, sockets, switches, electrical accessories, etc.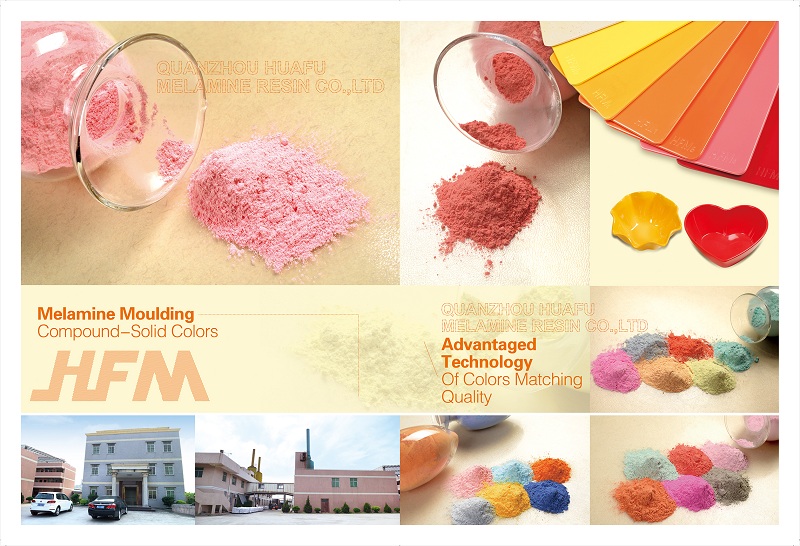 Storage:
1. Store in a cool, dry and ventilated storehouse away from moisture
2. Avoid handling or transporting together with acidic or alkaline substances
3. Prevent the material from rain and insolation
4. Load and unload carefully and protect from package damage
5. In the event of a fire, use water, soil or carbon dioxide fire-extinguishing media