People are paying more and more attention to dietary health, especially the choice of tableware, which has a great impact on dinning health. How to choose safe and environmentally friendly melamine tableware? First of all, melamine tableware is formed by heating, plasticizing, and casting melamine powder. Let's know more about the differences between A1, A3, A5 raw material.
A1 powder (not for tableware) (contains 30% melamine powder, and 70% ingredients are additives, starch, etc.)
Features: Although it has melamine ingredients, it still has plastic properties. It is highly toxic, intolerant of high temperature, intolerant of stains, intolerant of corrosion, rough in appearance, easy to deform, discolor, and poor gloss.
A3 powder (not for tableware) (contains 70% melamine powder and another 30% ingredients are additives, starch, etc.)
Features: The appearance is almost the same as the original product (A5 material), but once used, the product is not resistant to dirt, easy to change color, fade, deform under high temperature, and not resistant to corrosion.
A5 Powder (can be used for melamine tableware) (100% melamine powder) The tableware produced by using A5 powder is pure melamine tableware.
Features: It's non-toxic, light and has no smell. It has the luster of ceramic, but it is better than ceramic. It is resistant to bumps, not fragile, and has a beautiful appearance and good heat preservation. The temperature resistance is between -30 degrees Celsius and 120 degrees Celsius, so it is widely used in catering and daily life.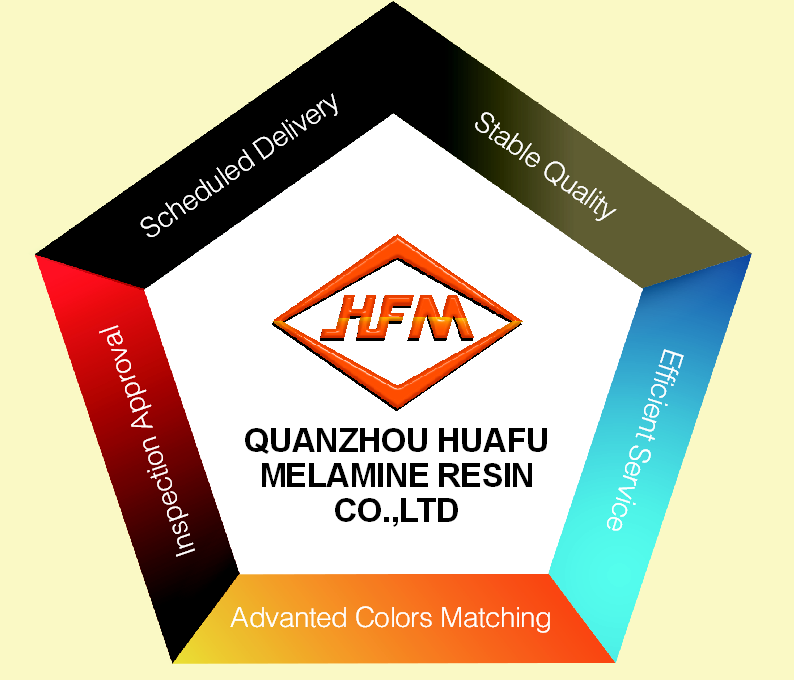 The melamine powder produced by Huafu Chemicals is high-quality 100% pure melamine powder, which is certified by SGS Intertek and recognized by customers home and abroad as the raw material for melamine tableware. The finished tableware is non-toxic, tasteless, beautiful in appearance, and bright in color. Welcome all melamine tableware factories to come for a visit. We will provide you with high-quality raw materials and professional service.
Applications:
1.Fine tableware
2.Kitchenware, children's dinnerware
3.Kitchen utensil handles
4.Serving trays, buttons and Ashtrays
5.Electrical fittings and wiring devices

FAQ:
Q1: Are you a manufacturer?
We are a factory located in Quanzhou, Fujian Province, very close to Xiamen Port. Huafu is a company specializing in the production of melamine powder and glaze powder (MMC), which is the raw material for making melamine tableware.
Q2: Do you provide free sample?
Yes, we supply 2KG free sample powder according to customers' need. But we charge the express fee.
Q 3: Can you make new colors based on the Pantone number in a short time?
Yes, after we receive your color sample, we can usually remake the color in less than a week. Our R&D team is very professional and excellent.
Factory Tour: