Melamine Resin is a synthetic resin that is a thermosetting polymer that is polymerized with formaldehyde using melamine. It is different from "urea-formaldehyde resin" which is made of urea and formaldehyde.
The resin raw material (powder or solid) is pre-heated slightly hardened, placed in a mold, molded by high temperature and high pressure treatment, can be hardened and shaped after heating. It has good heat resistance, corrosion resistance and insulation, so it is often used to mold kitchen utensils, tableware etc, which makes it one of the most widely used plastic materials.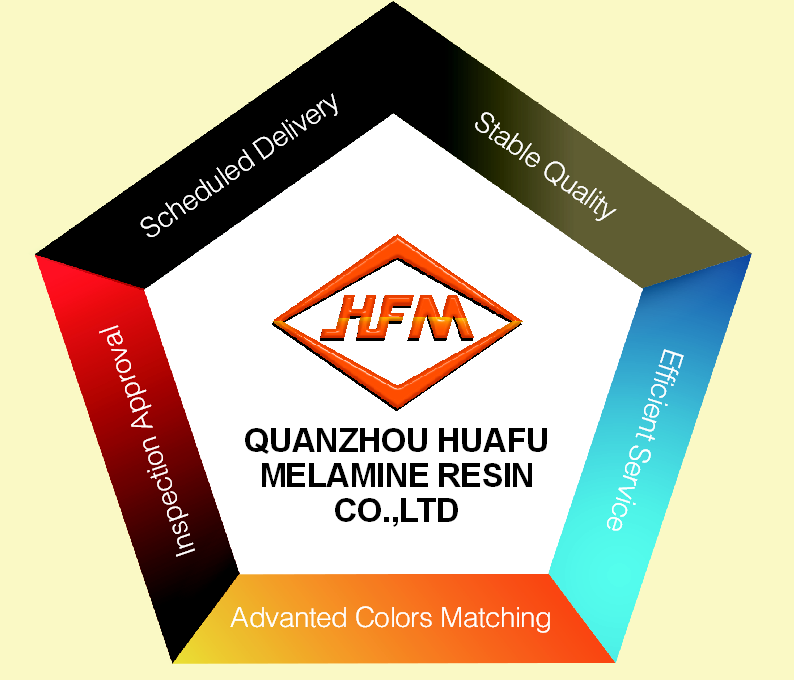 Physical property:
Melamine moulding compounding powder form are based on melamine-formaldehyde resins fortified with high-class celluloses reinforcement and further modified with minor amounts of special purpose additives, pigments, cure regulators and lubricants.
Property

Unit

Compression

Injection

Appearance

-

Powder / Granular form

Granular form

Specific Gravity

-

1.45-1.55

1.45-1.55

Bending Strength

Mpa

79.0 Min.

79.0 Min.

Charpy Impact Strength

Kj / cm2

2.0 Min.

2.0 Min.

Water Absorption

%

0.8 Max.

0.8 Max.

Insulation Resistance

10

10

Disc Flow

(2g material, at 140˚c)

mm.

87 Min.

105 Min.

Curing Time

(2g material, at 140˚c)

sec.

100 Min.

140 Min.
| | | | |
| --- | --- | --- | --- |
| TYPE | ITEM | UNIT | CONDITION |
| COMPRESSION | Mold Temperature | ˚c | 160 - 165 |
| | Mold Pressure | Kg / cm2 | 150 - 200 |
| | Barrel Zone Temperature | ˚c | 60 - 80 |
| | Barrel Front Zone Temperature | ˚c | 80 - 100 |
Advantages:
1. It has a good surface hardness, gloss, insulation, heat resistance and water resistance
2. With bright color, odorless, tasteless, self-extinguishing, anti-mold, anti-arc track
3. It is qualitative light, not easily broken, easy decontamination and specifically approved for food contact
Applications:
1. Kitchenware/dinnerware
2. Fine and heavy tableware
3. Electrical fittings and wiring devices
4. Kitchen utensil handles
5. Serving trays, buttons and ashtrays
Safety Use of Melamine Tableware:
1. The melamine tableware is not microwaved or cooked.
2. Melamine tableware is less popular with hot, acidic foods. When family eating outside without choice, drink more water, drink less soup.
3. Melamine tableware such as spoons and chopsticks should not be placed in hot soup or in a pot to cook.
4. Melamine tableware can not be washed with melon cloth and steel. After soaking for a while, wash with sponge and rag.
5. Melamine tableware should not be used as long as it has scratches, and must be renewed and not used for hot food.
6. Melamine tableware has been used for many years and should be replaced regularly for 2-3 years due to aging of the material.
7. Avoid buying melamine tableware with irritating odors and prevent the purchase of secondary products with formaldehyde residues.
8. Buy good quality melamine tableware, don't buy products that are unclear and cheap.

Storage:
1. Store in a cool,dry and ventilated storehouse away from moisture
2. Avoid handling or transporting together with acidic or alkaline substances
3. Prevent the material from rain and insolation
4. Load and unload carefully and protect from package damage
5. In the event of a fire,use water,soil or carbon dioxide fire extinguishing media
Factory Tour: