Melamine Glazing Resin Powder is non-toxic, tasteless, odorless. It's an ideal amino molding plastic material, which can be used for improving the brightness, wear-resisting of MMC or UF tableware.
Melamine Glazing Powder has three varieties:
LG110: used for shining tableware made by UMC A1 type;
LG220: used for shining tableware made by MMC A5 type;
LG250: used to spread on the decal paper, patterning and shinning the article like tableware, make it more shining and nice.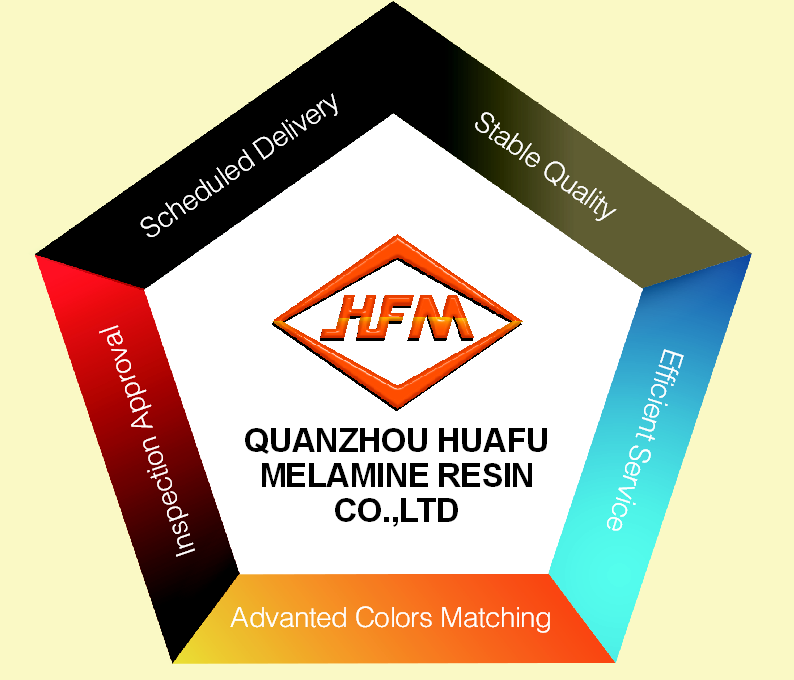 SGS Report: No. SHAHG1920367501 Date: 19 Sep 2019
Melamine glazing resin powder produced by Huafu Chemicals has passed the SGS and Intertek Certificates. For more details, please go through the following data.
Specimen No. SGS Sample ID Descirption Material
SN1 SHA-19-203675.001 White melamine plate Melamine
Commission Regulation (EU) No 10/2011 of 14 January 2011 with amendments-Overall migration
Simulant used

Time

Temperature

Max. Permissible Limit

Result of 001 Overall migration

Conclusion

10% Ethanol (V/V) aqueous solution

2.0hr(s)

70℃

10mg/dm²

<3.0mg/dm²

PASS

3% Acetic acid (W/V)

aqueous solution

2.0hr(s)

70℃

10mg/dm²

<3.0mg/dm²

PASS

95% Ethanol

2.0hr(s)

60℃

10mg/dm²

<3.0mg/dm²

PASS

Isooctane

0.5hr(s)

40℃

10mg/dm²

<3.0mg/dm²

PASS
Physical property:
White powder, tasteless and non-toxic. It has excellent hot water resistance, electrical insulation and heat resistance, heat distortion temperature of 180 °C, and operating temperature of -57 to 121°C. Oil resistant and general solvent, resistant to dilute acid and alkali.
Huafu Advantages
1. Factory supply of quality melamine glazing powder
2. Quality products with competitive price can be provided.
3. Good Service: Prompt reply and instant communication
4. 2KG Free sample powder can be transmitted.
5. Food Grade, SGS & Intertek certificates.
6. The goods will be delivered safely and smoothly.
Applications:
Bowls and plates; Fast food plate, tray series; Cups, soup cups and ashtrays
Trash can, bathroom series; Pet bowl series; Flavored dish, spoon and chopsticks series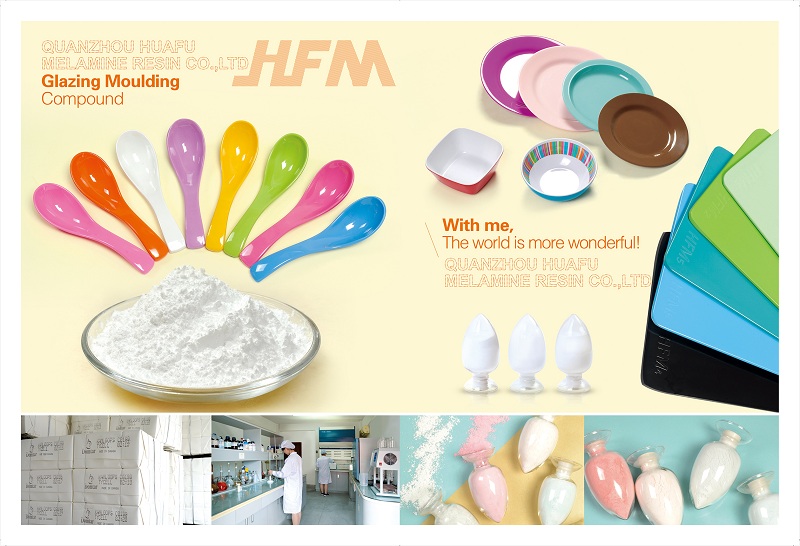 Storage:
Melamine Glazing Powder should be stored in a dry place and kept as cool as possible (below 25°C). It is very sensitive to moisture, hence packaging should be kept well closed to avoid lumps formation.
Factory Tour: