Huafu Melamine Powder
Melamine molding compound is a thermosetting plastic. Compared with basic thermoplastics, thermosets have many advantages. They are produced with precision, brightness, light fastness and bright colors. Their raw materials are generally in powder or granular form.
Features of melamine molding powder
According to the molding requirements of injection molding or compression molding, the fluidity can be large or small.
The SGS Report of Huafu Melamine Powder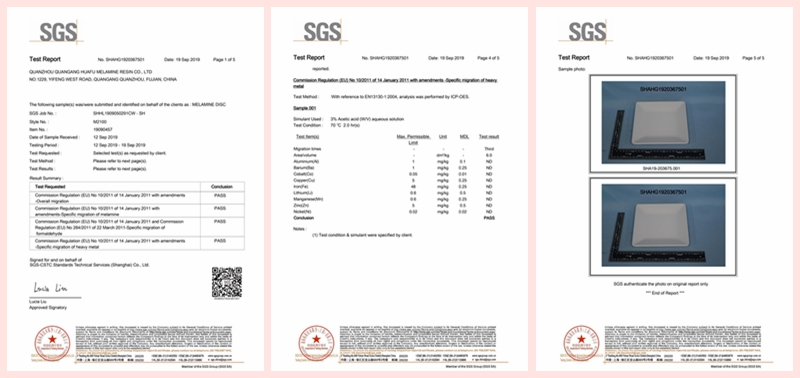 Applications of Huafu Melamine Moulding Compound
Widely used in the manufacture of tableware, refrigerator food boxes, aviation cups and tableware, advanced sanitary ware, insulating parts, electrical parts, etc.
Packaging and transportation: Packed in plastic woven bags, 25kg or 10kg per bag, should be kept dry, in a cool and ventilated place, and avoid storage and transportation with acids and oxidants.

Company Profile
Our company is a professional manufacturer and manufacturer specializing in the research, development and production of melamine tableware molding materials.

We are located in Quanzhou, Fujian, China. We are equipped with complete facilities and excellent quality control at all stages of production, allowing us to guarantee customer satisfaction.

We respect every customer, regard them as our friends, and sincerely look forward to cooperating with you for common development!

FAQ
1. Are you manufacturer?
We are a professional melamine manufacturer.
2. What grade is your melamine raw material?
What we produce is 100% pure melamine powder for food contact.
3. What is your minimum order quantity?
Generally speaking, the minimum order quantity of our products is 1 ton.
4. Can you make a new color?
Yes, our color department can mix any color you want in a few days.
5. What is the delivery time?
Normal color number is 3-6 days, special color is 7-10 days. Of course, if you are urgent, we will try our best to help you.