It is still the melamine market analysis to share today by Huafu MMC Factory.
The domestic melamine market stabilized after an appropriate downturn this week. This is a good news for tableware factories. Melamine and MMC purchasing hot line: +86 15905996312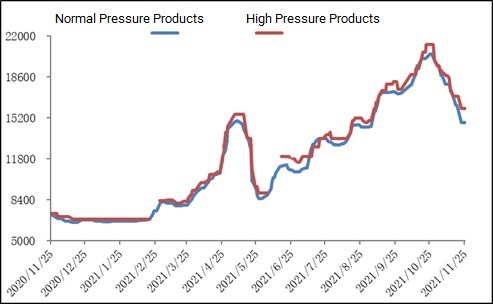 First, let's look at the trend chart of average ex-factory price of Chinese melamine companies.
1. The national average ex-factory price of normal pressure products was US$2354.3/ton, down 10.06% month-on-month and up 110.93% year-on-year.
2. As of this Thursday, the quotations of new orders of melamine in China are concentrated at US$2239.3-2380.2/ton, which is a decrease of US$203.6-266.2/ton from last week.
3. In the early part of this week, prices continued to decline rapidly. The downstream was affected by the psychology of buying up but not buying down. Inquiries were deserted, manufacturers' shipments were not smooth, and prices fell under pressure.
4. With the temporary stabilization of the market, the inventory of some companies has shifted to the downstream, so the overall supply and demand of the market remain relatively loose.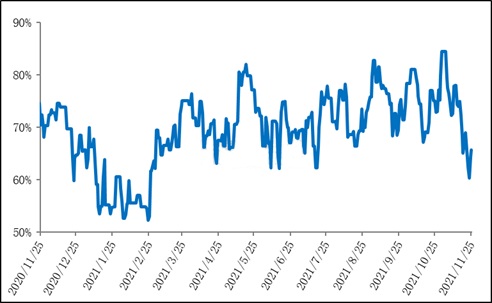 Statistics on the operating load rate of Chinese melamine enterprises (20211119-1125)
Let's continue to look at the melamine market trend analysis and forecast
1. This week, the operating load rate of Chinese melamine enterprises was 66.35%, a slight drop of 1.38 percentage points from the previous month and a year-on-year drop of 4.57 percentage points.
Huafu Chemicals believes that the operating load rate of domestic melamine enterprises will increase to more than 70% next week.
2. The price of raw material urea rebounded appropriately, but the current price increase is limited, and it is difficult to provide substantial cost support for melamine.
Huafu Chemicals believes that in the short term, the domestic melamine market will continue to rise or there may be some resistance, and most of it will continue to advance steadily.
Warm Reminder: Manufacturers can make transactions flexibly according to their own order conditions, and it does not rule out that partial shipments are not smooth.