In the end of November in 2021, a batch of black, gray and white MMC ordered by our Colombian customer in South America were safely shipped from Huafu Factory.
Huafu Melamine Powder Factory has the top color matching team and Taiwan technology to customize the specific color powder for customer.
Look at the color chips we provided for customers to confirmation! The white color such as off white, ivory white, grayish white seems very similar but still have some differences.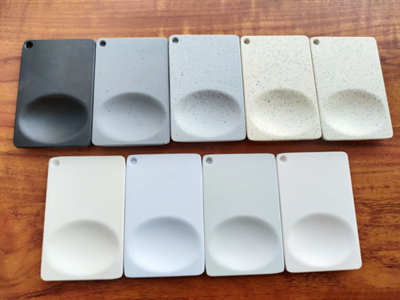 In order to avoid the color difference caused by the picture, we always keep on making color chips for our customers. On the one hand, customer can inspect the quality of the melamine molding powder by the finished chips, and on the other hand, they can confirm the color they want.
If you have any demand of MMC or melamine, you could contact us!
Mobile: 86-15905996312 (Shelly Chen)
Email: melamine@hfm-melamine.com