100% Pure Raw Material of Melamine is melamine formaldehyde resin molding powder. It's a thermosetting compound that is offered in various colors. It is made from melamine formaldehyde resin as the base material with "alpha" cellulose as a filler, add pigment and other additives.
It has the characteristics of water resistance, high temperature resistance, non-toxicity, bright color and convenient molding.
Melamine molding compound is widely used in all kinds of melamine tableware, containers, electrical parts and other molding products.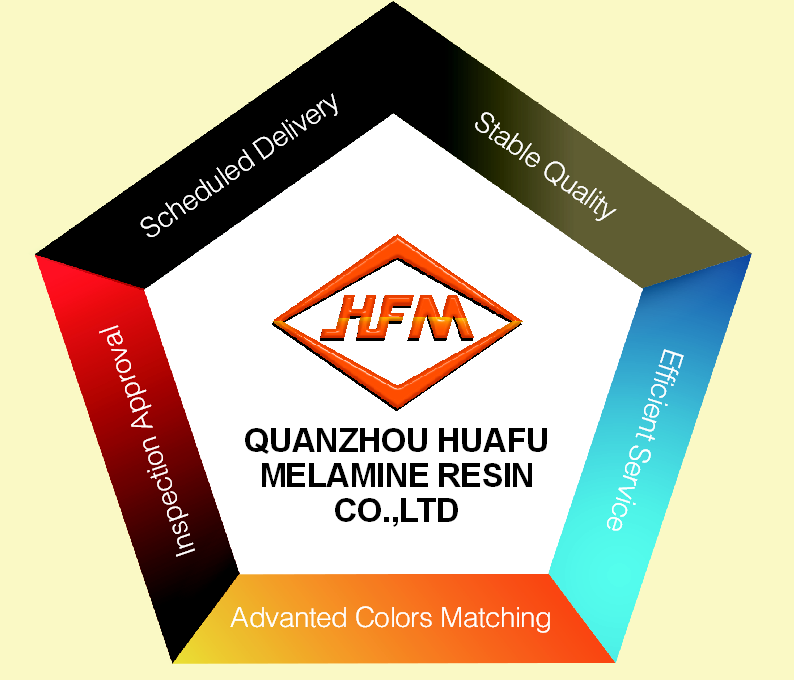 SGS Report:
No. SHAHG1810561301 Date: 04 Jun 2018
Commission Regulation (EU) No 10/2011 of 14 January 2011 and Commission Regulation (EU) No 284/2011
of 22 March 2011-Specific migration of formaldehyde.
Test Method: With reference to EN 13130-1: 2004, analysis was performed by UV-Vis.
Simulant Used :3% Acetic acid (W/V) aqueous solution
Test Condition : 70 ℃ 2.0 hr(s)
Test Item(s) Max. Permissible Limit Unit MDL Test Result
Migration times - - - Third
Area/volume - dm
²/kg - 8.2
Sepcific migration formaldhyde 15 mg/kg 0.1 7.4
Conclusion PASS
Physical property:
Urea-formaldehyde moulding plastics and melamine-formaldehyde moulding plastics granule products can be molded by molding and injection. Melamine tableware is made from melamine powder through high temperature and high pressure. The tableware can be used in the high temperature above 100 degrees for a long time because of its thermal deformation temperature up to 180 degrees.
Property

Unit

Compression

Injection

Appearance

-

Powder / Granular form

Granular form

Specific Gravity

-

1.45-1.55

1.45-1.55

Bending Strength

Mpa

79.0 Min.

79.0 Min.

Charpy Impact Strength

Kj / cm2

2.0 Min.

2.0 Min.

Water Absorption

%

0.8 Max.

0.8 Max.

Insulation Resistance

10

10

Disc Flow

(2g material, at 140˚c)

mm.

87 Min.

105 Min.

Curing Time

(2g material, at 140˚c)

sec.

100 Min.

140 Min.
Molding Condition
| | | | |
| --- | --- | --- | --- |
| TYPE | ITEM | UNIT | CONDITION |
| COMPRESSION | Mold Temperature | ˚c | 160 - 165 |
| | Mold Pressure | Kg / cm2 | 150 - 200 |
| | Barrel Zone Temperature | ˚c | 60 - 80 |
| | Barrel Front Zone Temperature | ˚c | 80 - 100 |
Advantages:
1. Non-toxic, good surface hardness, gloss, insulation
2. Anti-mold, anti-arc track, heat resistance and water resistance
3. Shinning bright color, odorless, tasteless, self-extinguishing
4. Qualitative light, not easily broken
Applications:
1.Fine tableware
2.Kitchenware, children's dinnerware
3.Kitchen utensil handles
4.Serving trays, buttons and Ashtrays
5.Electrical fittings and wiring devices

Storage:
1. Store in a cool,dry and ventilated storehouse away from moisture
2. Avoid handling or transporting together with acidic or alkaline substances
3. Prevent the material from rain and insolation
4. Load and unload carefully and protect from package damage
5. In the event of a fire,use water,soil or carbon dioxide fire extinguishing media
Factory Tour: