In the current tableware industry, there is a name more and more familiar to us, that is melamine bowl. Qualified melamine bowls are made of 100% pure melamine molding compound. As we know, many tableware merchants prefer this product because it sells very well. When shopping, lots of people are more interested in melamine bowl rather than other types of bowls. So what are its characteristics? Why is it so popular with people?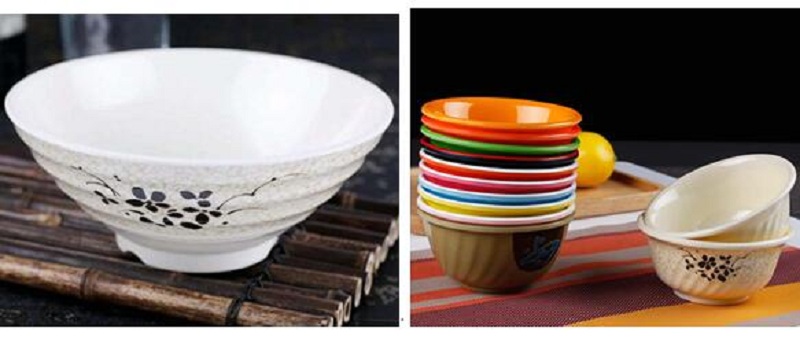 1. Environmental friendly materials and healthy
Nowadays, the chemical industry is relatively developed. Many common articles in daily life are made of chemical raw materials, such as plastics and synthetic materials which can be seen everywhere. Some of these chemical products don't have a good quality, and there may be some toxicity that endangers people's lives. However, melamine bowl does not have this problem because of its raw material melamine resin in production. It is high-standard environmental, healthy and non-toxic, therefore people feel more assured to use it.
2. Porcelain like appearance, solid and durable.
With the appearance of porcelain, without the brittleness of porcelain, it is another characteristic of melamine bowl. If someone is holding a bowl like this, people might think it's a porcelain bowl. It looks and feels like porcelain. However, it is not as fragile as porcelain and has a higher durability effect.
3. Low thermal conductivity and safer to use.
Most ordinary bowl conducts heat well, and people may feel a little hot to hold if they don't pay attention. While using melamine bowl, you don't have to worry about this. Its thermal conductivity is so low that people don't have to worry about getting burned. In addition, the melamine bowl basically does not smell retained after washing. The reason is that it is chemically stable, with a dense molecular structure, so food residues usually don't stick to the bowl, no smell left either.
Huafu Chemicals is specialized in Pure-Stable-Colorful Melamine Powders for melamine tableware. Our melamine tableware compounds are food grade, SGS, Intertek passed qualified powders which are very suitable for making healthy melamine bowls.