Exhibition Time: December 4th-7th, 2019
Venue: Istanbul Exhibition Center
Exhibition Period: Once a year
Organization Group:Tüyap Fairs Organization Group
Exhibiting Products:
Plastic raw materials (polyurethane, titanium dioxide, flame retardant plastics, reinforced plastics, glass fiber reinforced plastic, conductive plastic, filling plastic, high filled masterbatch, cooling masterbatch, dyes, etc.)

plastic injection molding machines, automatic filling and sealing machine, plastic drying machine, single/twin screw extruder, plastic packaging machine, plastic braiding machine

plastic pipe production line, plastic mould and molds, plastic powder feeder, foam/reaction or reinforced resin equipment, granulating machine, automatic bottle blowing machine, hollow plate extruder, profiles extruder, injection moulding machine, PET sheet extruder, rubber raw materials, etc.
In fact, the raw material of melamine tableware that is also named melamine molding powder is included. Melamine Powder is enormously demanded in the market of many western countries for its superior finish and long-lasting nature.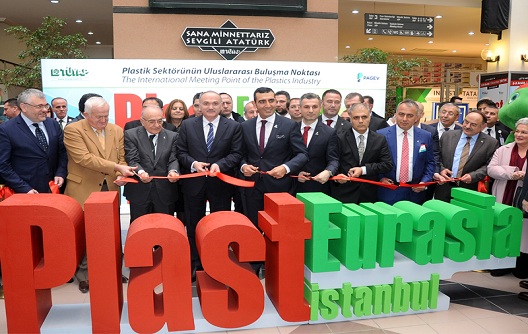 Exhibition Introduction:
The Istanbul, Turkey International Plastics Exhibition (Plast Eurasia Istanbul) which was held once a year was founded in 1990.
It was nearly 29 years old and has received strong support from the Turkish Plastics Association.

It has formed a large scale in the local area and has a certain influence in the plastics industry.

It is currently the only professional exhibition in the plastics industry in Turkey.
The 20th Turkey International Plastics Industry Exhibition was a complete success in 2018.
The exhibition covers an area of 100,000 square meters. There were 1,134 companies from 53 countries all over the world took part in the exhibition, including Australia, Belgium, Brazil, Chile, China, Denmark, France Greece, Spain, Italy, Japan, South Korea, India, Malaysia and other countries and regions Among those exhibiting products, plastic and raw materials products accounted for 35%, plastic machinery and equipment manufacturers accounted for 25%, rubber industry 9.4%, packaging industry 7.3%, mould industry 5.2%.

The exhibitors from Germany and the United States ranked in the forefront. According to the statistics of the exhibition, 85% of the exhibitors made great harvests in the exhibition, and more than 47,306 professional visitors from 93 countries including Turkey and neighboring countries visited the exhibition. 98.7% visitors said that they achieved their goals through the exhibition and considered it a successful event.