Nowadays, restaurant chain industries, fast food restaurants, especially children's diet pay more and more attention to the health of tableware. Melamine tableware is widely used in these industries. There are many different types of tableware to choose from, but all of them must be identified by the QS logo and correctly distinguished between MF and UF labels. Products with MF logo can be used as tableware. UF products may only be used for the storage of non-food items or for food to be peeled (such as oranges and bananas), but not for food to be eaten directly.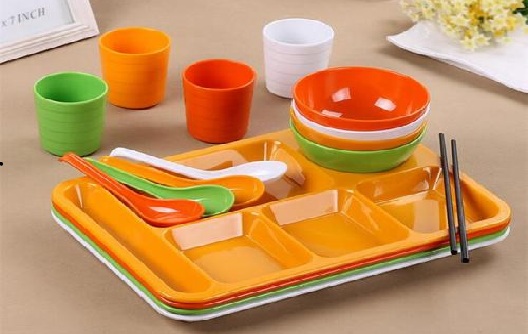 Special attention should be paid to the purchase of tableware for infants. We do not only need to choose products with product certification, usage temperature and marked by 100% melamine manufactured, but also should choose the products of light color, bright appearance and internal without patterns, no deformation and color difference.
Huafu Melamine Resin can produce the Food Grade SGS certicifates qualified 100% pure melamine molding compound for making tableware.