Melamine tableware is currently popular new material tableware. Because it has the appearance of traditional ceramic tableware with beautiful color, gloss and texture. Therefore, it's also called imitation porcelain tableware, and melamine tableware.
Compared with ceramic tableware

, it has the advantages of low proportion, more vivid color, not easy to be broken and more environmental protection.

Compared to plastic tableware

, it has the advantages of high proportion, suitable feel, non-toxic and tasteless, qualitative hard and durable, good heat resistance, and low thermal conductivity.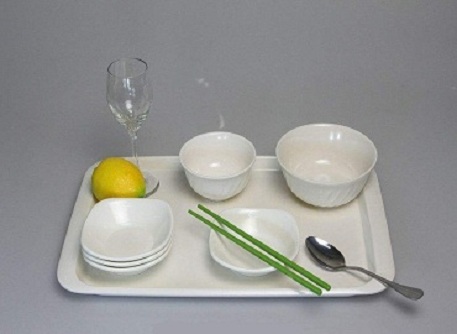 The production process is: 1 prepare raw materials (Melamine Tableware Raw materials), prepare foil paper, 2 weigh materials, 3 compression molding, 4 decals, 5 add gold, 6 coarse grinding, 7 fine grinding, 8 polishing, 9 packaging.
Actually,the choose of raw material melamine molding powder is very important for tableware production. Huafu Chemicals have certificated SGS & Intertek producing capability to suppy qualified melamine formaldehyde resin powder. Wecome to visit our factory in the future.