Physical & Chemical Properties of Melamine Glazing Powder:
OVERLAY RESIN is commonly known as GLAZING POWDER. Its molecular structure is basically the same as melamine formaldehyde resin powder. They are all high molecular compounds. They are formaldehyde and melamine reacted into resin. Dried ball-milled powder, with no pulp added to the cover powder, commonly known as "fine powder". It's mainly used to spread on the surface when pressing tableware, increasing the surface brightness, making the tableware more beautiful and generous. suitable for all kinds of melamine plastic tableware and electric jade powder, A3 powder, press forming glazing and dip decal paper.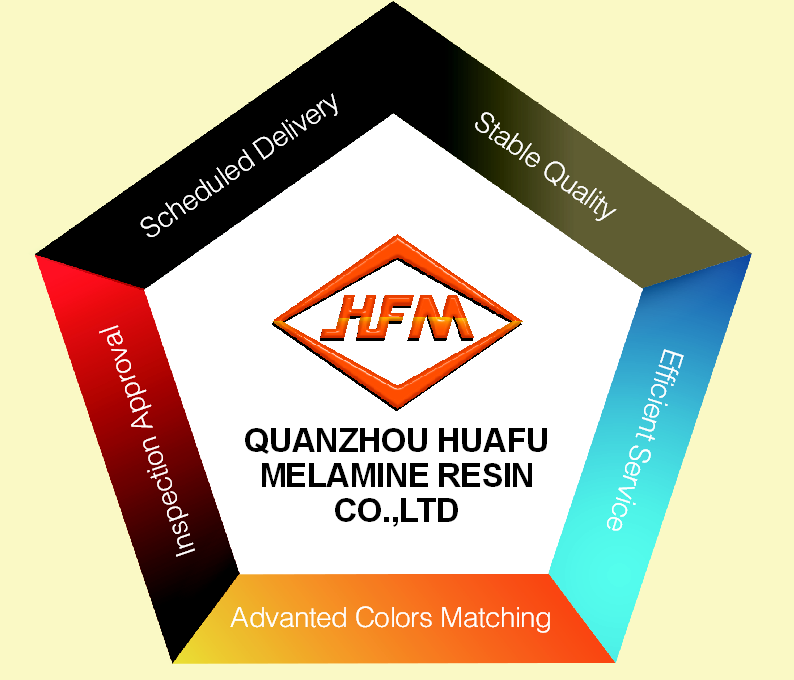 Physical property:
PRODUCT

APPLICATION

APPERANCE

DENSITY
( g / cm2 )

MOISTURE
( %free water )

DISC FLOW
( MM )

CURING TIME
( at 170 ˚c )

LG240/LG220

- coating

White
powder

0.38 - 0.44

3.0 Max

130 - 140 *

20 - 30

LG2501

- coating
- Bushing on
decorative foil paper

White
powder

0.20 - 0.25

3.0 Max

125 - 140 *

15 - 25
Molding Condition
TYPE

ITEM

UNIT

CONDITION

COMPRESSION

Mold Temperature

˚c

165 ± 5

Mold Pressure

kg / cm2

150 - 200
Our Advantage:
1. Over 20 years experience in melamine raw material powder manufacturing
2. Annual production capability of 12000 tons
3. Reasonable price with good quality melamine compound
4. The mealmine powder has good fluidity and high yield
5. Professional color reasearch and making team
6. Supply of 2kg free sample powder
7. Fast delivery and effective service
8. Provide customers with SGS, Intertek Certificates as requested
Applications:
1.Household tableware,Restaurant tableware
2.Kitchenware, children's dinnerware
3.Kitchen utensil handles
4.Serving trays, buttons and Ashtrays
5.Electrical fittings and wiring devices
6.Toilet cover,trash can

Packaging: Generally packed in 20kg paper-plastic composite bags. Lined with 1-2 layers of plastic film bags.
Storage: It should be stored in a ventilated, dry and cool room (<30 ℃).
Transportation: Keep away from moisture, heat, contamination and packaging damage.
Factory Tour: