When we provide the raw materials of melamine powder, we will encounter some questions from customers about shipping packaging. For example, what is the packaging for melamine powder? How to install the container? Is there a pallet pack?
Today, Huafu Chemicals summarizes these questions and answers so that customers can get a better understanding.
1. Inner packaging of melamine powder
After the finished powder comes out, it will be screened and inspected. The final melamine powder product is first packaged in a transparent PE bag to ensure that the quality of the raw material is not affected.

Huafu Factory PE bags requirements: the PE bags must be made of pure plastic instead of recycled plastic material.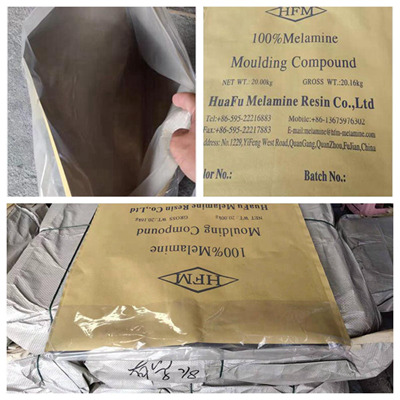 2. Outer packaging of melamine powder
After the melamine powder packed in a transparent PE bag, a kraft paper bag is used for outer packaging to prevent from moisture and damage.

Huafu Factory kraft paper bags requirements: high-quality kraft paper + glue + woven bag laminated together.

Huafu factory regularly purchases these kraft paper bags every year and has special quality inspectors to do strict quality inspections. A good product, coupled with good outer packaging, is consistent with the outside and inside quality.
After the melamine powder is conventionally packaged, customers can choose FCL SHIPMENT or LCL SHIPMENT.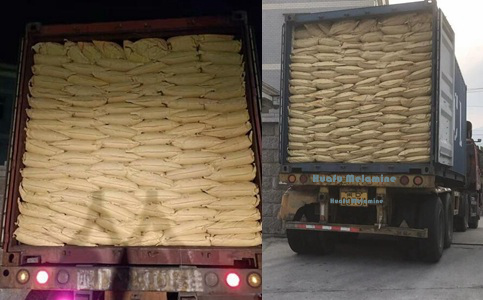 FCL Shipment
Normal melamine powder: 20GP container, can be loaded to about 20 tons
Special marble melamine powder: a container full of 20GP can only be loaded to about 14 tons.
There is another situation. In the case of the whole container shipment, some customers require the package with pallets before entering the container.
40HQ container packed with melamine powder on pallets: normal melamine powder can be loaded to about 24.5 tons. Because the melamine powder on the pallet will take up a certain amount of space.
LCL Shipment
Generally, melamine powder will be packed on three-plywood pallets or plastic pallets as the base, then wrap the film on the outside for waterproof and moisture-proof, and a certain fixed effect. Finally, put on leather strips or iron sheets for the final fixation to ensure that the tray does not tilt.
One pallet can be packed with 700-800 kg (35-40 bags) melamine powder.
It is recommended to be packed within 700 kg for one pallet. Because the bulk cargo will be transferred through the transshipment port, and then unloaded and then loaded, there is a certain delivery risk. It is advisable to pallet a small amount for each pallet.
With such reassuring and safe packaging and loading, customers do not have to worry about the safety of goods during transportation. Huafu Melamine Powder will be your trustworthy supplier all the time.