Today, Huafu Melamine Factory continues to bring you the latest melamine market trend and market forecast for the next 3 months.
If you are in need of melamine powder, melamine formaldehyde resin compound, glazing powder, please just feel free to contact us. Mobile: +86 15005996312 (Shelly Chen) Email: melamine@hfm-melamine.com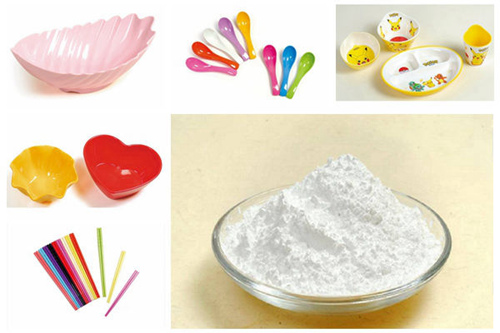 Melamine Market Trend in October
China's melamine market continued to fluctuate upward in October. As of October 27, the national average ex-factory price of melamine normal pressure products was US$ 3071 per ton, an increase of US$ 479.8 per ton, or 18.51%, from the average price of the same period last month; an increase of US$ 2257 per ton, or 277.25%, compared with the same period last year.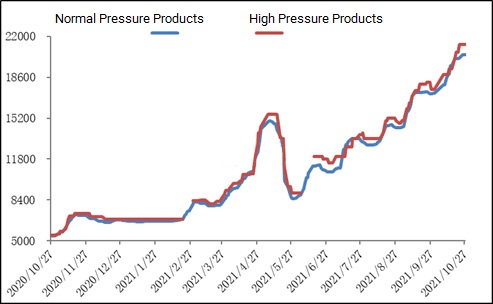 Average ex-factory price of Chinese melamine companies
1. From the perspective of raw materials, the price of urea in November is expected to fall, so the support for the cost of melamine may be weakened.
2. From the perspective of supply, in mid-to-early October, some companies concentrated on parking for maintenance, so most of them will remain in basically normal operation in the later period, the overall starting load level is relatively high, and the supply of goods is relatively sufficient.
3. From the demand side, the traditional consumption peak season at home and abroad is still in the later period. Although the downstream factories maintain the state of reduced load production, the rigid demand still exists, so it will still provide some support to the market.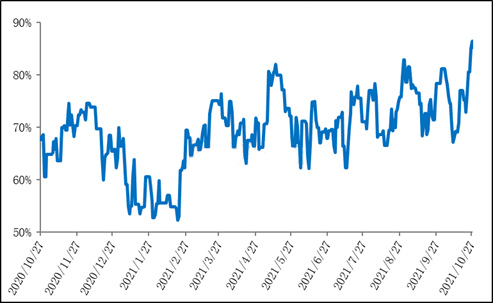 The operating load rate of Chinese melamine enterprises
Huafu Chemicals believes that under the support of rigid demand in the short term, companies still have a large number of pending orders, and some of them are export-oriented, so they will maintain a trend of high prices. In addition, the price of raw material urea is expected to fall, which may have a negative impact on the melamine market by then, and pay attention to changes.
Forecast for the next 3 months
November and December are still in the peak season of traditional consumption, so domestic and foreign rigid demand still exists, and corporate quotations may be relatively firm.
After New Year's Day, domestic and foreign market demand may decrease, and the Chinese New Year holiday is approaching, the market trading atmosphere will gradually slow down. It is expected that the price deposit will fall back by then.
Another Top point:
Delivery time of the orders could be considered seriously from now on. Due to the delay of shipping lines and lack of containers all over the world, the delivery of the goods becomes harder. For example, there is 2-3 vessels per month, but now only 1 vessel per month.
Even the production of MMC becomes better, but the delivery time will still continue to become worse.
So, To all of our valued customers, please do plan the purchasing orders In Advance!