At the end of the last month of 2021, Huafu Factory keeps on sharing the market price of melamine for you.
As the manufacturer of melamine powder and melamine molding compound, Huafu Chemicals will continue to share valuable information for tableware factories.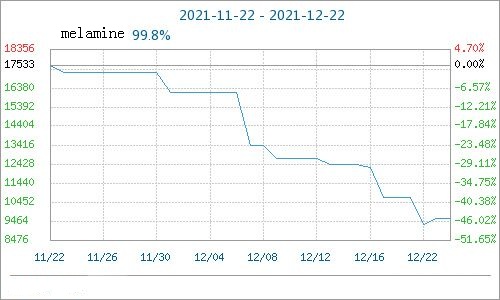 Till December 22, the average corporate price of melamine was US$1,507/ton, a decrease of 21.53% compared with the price of last Thursday (December 16), and a decrease of 45.25% compared with the price of November 22.
The monthly cycle has dropped by 44.51% year-on-year, and the current melamine prices are between US$1475/ton and US$1648/ton.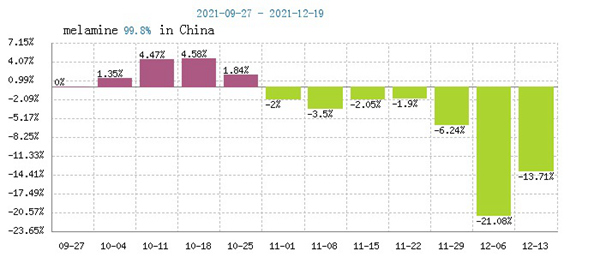 Recently, the market price of melamine has stopped falling and rebounded.
1. On the cost side, the price of raw material urea has risen slightly recently, and the price of melamine has fallen sharply in the previous period. The current cost pressure is obvious.
2. On the supply side, the operating rate of the melamine market is still at a high level, but the inventory pressure of the company is not large for the time being, and the company has sufficient pre-acceptance orders.
3. On the demand side, inquiries in the export market have increased, and domestic trade has not improved significantly.
4. The market atmosphere of melamine has improved, and the price has stopped falling and rebounded.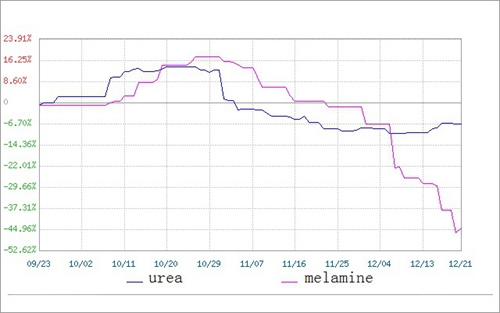 Upstream urea, the domestic urea market fell on December 22, which was 0.48% higher than the price on December 16.
The upstream coal and liquefied natural gas prices have recently consolidated at a low level, and cost support has weakened.
Huafu Chemicals believes that there is a certain degree of support for the current cost side, and the company's delivery is acceptable. It is expected that in the short term, the melamine market may be stable and strong.