Melamine Formaldehyde Glazing Powder (lg) is also known as glazing powder. The molecular structure of glazing powder is basically the same as melamine resin molding powder. It's a kind of polymer compound. The formaldehyde and melamine reaction resin after drying ball mill into powder raw materials. It is also known as "fine powder" because of no pulp adding. Melamine resin molding powder is avirulent, tasteless, odorless. It is the ideal glazing material for amino mold products with the ability to make products bright, wear-resistant and other characteristics.
Melamine Glazing Powder has three varieties:
1. LG110: shinning powder for urea tableware products (A1 and A3 materials)
2. LG220/LG240: shinning powder for melamine tableware products (A5 material)
3. LG250: glossy powder for foil paper
Our Advantage:
Established in 2001, Huafu Chemicals has become a professional company that manufactures melamine powder, glazing molding powder and other products.

We provide these products in different forms to meet different market needs.

We also customize melamine powders in various colors for customers.

In addition, to ensure the highest quality, we regularly inspect our products at professional third-party testing agencies.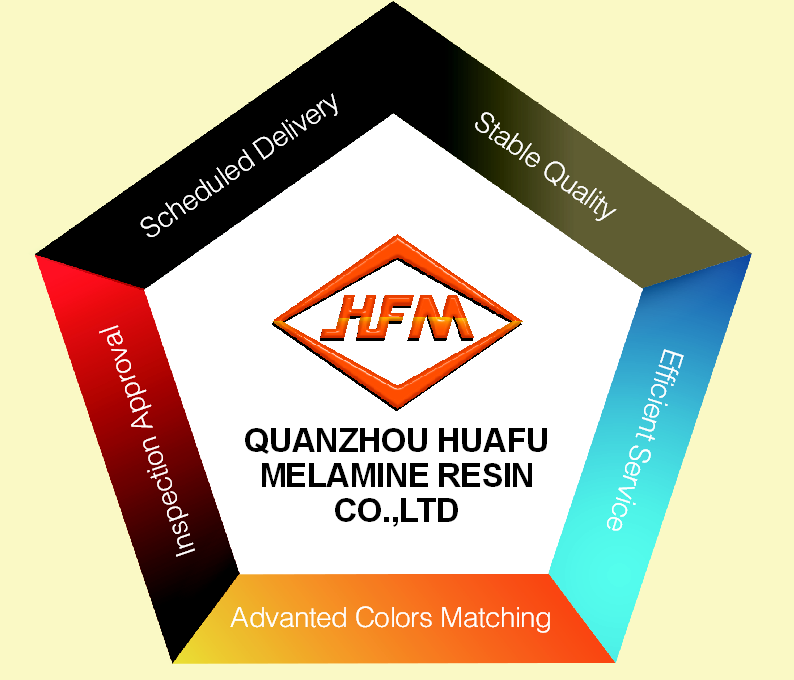 SGS Report: No. SHAHG1810561301 Date: 04 Jun 2018
The testing result of submitted sample (White Melamine Plate)
Test Method: With reference to Commission Regulation (EU) No 10/2011 of 14 January 2011 Annex III and
Annex V for selection of condition and EN 1186-1:2002 for selection of test methods;
EN 1186-9: 2002 aqueous food simulants by article filling method;
EN 1186-14: 2002 substitute test;
Simulant used

Time

Temperature

Max. Permissible Limit

Result of 001 Overall migration

Conclusion

10% Ethanol (V/V) aqueous solution

2.0hr(s)

70℃

10mg/dm²

<3.0mg/dm²

PASS

3% Acetic acid (W/V)

aqueous solution

2.0hr(s)

70℃

10mg/dm²

<3.0mg/dm²

PASS

95% Ethanol

2.0hr(s)

60℃

10mg/dm²

<3.0mg/dm²

PASS

Isooctane

0.5hr(s)

40℃

10mg/dm²

<3.0mg/dm²

PASS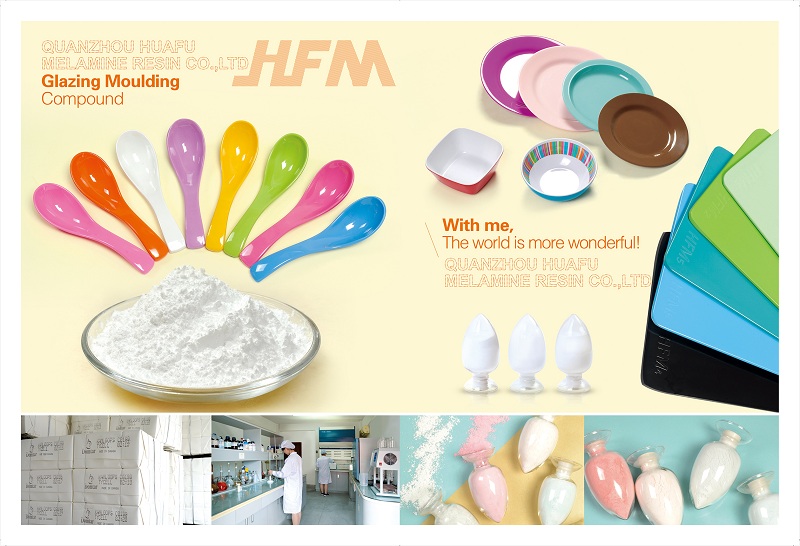 Advantages:
The raw material of melamine tableware is melamine formaldehyde resin, and it has some outstanding characteristics.
Firstly, melamine formaldehyde molding powder is odorless, tasteless and non-toxic.

Secondly, the surface hardness of melamine formaldehyde plastic is high, shiny and scratch resistant.

What's more, it has self-extinguishing, fireproof, impact resistant, and good crack resistance.

Last, it has high temperature and high humidity stability, good solvent resistance and good alkali resistance.
Applications:
Bowls and plates
Fast food plate, tray series
Cups, soup cups and ashtrays
Trash can, bathroom series
Pet bowl series
Flavored dish, spoon and chopsticks series
Factory Tour: