Why Choose Us?
As the market becomes more competitive, manufacturers begin to gain competition advantage from fast-delivery and feasible production. Huafu Chemicals scheduled delivery helps more and more cooperative melamine tableware manufacturers become outstanding in their local and abroad market.

The factory of Huafu Chemicals has two production lines with a monthly production capacity of 1,000 tons. The annual output value is 100 million yuan. There are 126 factory workers, including 6 Research and Design personnel, and 2 QC personnel. Besides that,the stable machine, reasonable structure help with producing qualified melamine powder.

There is a strict schedule of 5 days working time per week in our factory, that is, 2 days off after completing 5 days work, allowing the workers to have enough rest time to prepare for the next week's work. Therefore, if needed, workers are available to work for some urgent case.

The normal delivery time is that the delivery can be made within 7-10 days after the order is confirmed. In the special peak season, the delivery will be within 15 days. If it is a particularly urgent cargo, for example, there is not much stock in the customer's factory. After the reason is stated, it can be processed in priority and delivered according to the specified time to meet the special needs of the customer.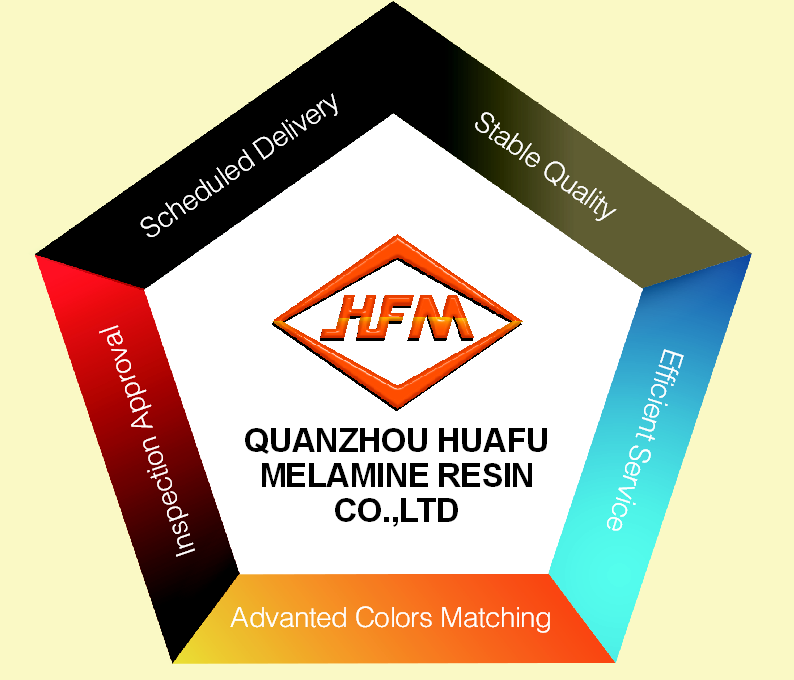 SGS Report:
The testing result of submitted sample (MELAMINE DISC)
Test Requested

Conclusion

Commission Regulation (EU) No 10/2011 of 14 January 2011 with amendments

-Overall migration

PASS

Commission Regulation (EU) No 10/2011 of 14 January 2011 with

amendments-Specific migration of melamine

PASS

Commission Regulation (EU) No 10/2011 of 14 January 2011 and Commission

Regulation (EU) No 284/2011 of 22 March 2011-Specific migration of

formaldehyde

PASS

Commission Regulation (EU) No 10/2011 of 14 January 2011 with amendments

-Specific migration of heavy metal

PASS
Physical property:
Melamine Glazing Powder: non-toxic, tasteless, odorless, is used to make the product tableware bright and shinning.
Typical Properties
PRODUCT

APPLICATION

APPERANCE

DENSITY
( g / cm2 )

MOISTURE
( %free water )

DISC FLOW
( MM )

CURING TIME
( at 170 ˚c )

LG240/LG220

- coating

White
powder

0.38 - 0.44

3.0 Max

130 - 140 *

20 - 30

LG2501

- coating
- Bushing on
decorative foil paper

White
powder

0.20 - 0.25

3.0 Max

125 - 140 *

15 - 25
TYPE

ITEM

UNIT

CONDITION

COMPRESSION

Mold Temperature

˚c

165 ± 5

Mold Pressure

kg / cm2

150 - 200
Applications:
1. Used in the manufacture of melamine tableware and covered on the surface of melamine tableware to play a glazing effect.
2. Used for the production of melamine powder. In the grinding stage of melamine production, glazing powder is a common additive, which can improve the fluidity and processing properties of melamine powder.

Factory Tour: