Types of Melamine Tableware
1. White Decal Dinnerware. White melamine tableware is used as the base color, and white melamine paper decals are used to produce white decal tableware.
2. Single Color Melamine Tableware. Add organic pigments to the semi-finished products produced by the reaction furnace, place them in a ball mill and mill them for 6-8 hours to obtain colored melamine molding powder and shape them in a molding machine. Colored melamine tableware of various colors is produced.
3. Two-color Melamine Tableware. When producing forming molds, add a pair of master molds on the basis of a pair of molds. Add one color of melamine powder into the first pair of molds for molding, and then put the product into the master mold to mold another color of melamine molding powder, and the finished product has two colors.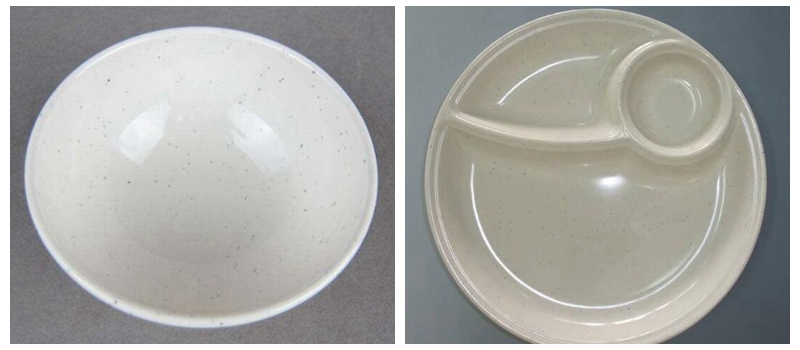 Monochrome melamine tableware with spray spots
Add a certain proportion of dark color to the light-color melamine molding powder, and after mixing, you can make this new type of single-color melamine tableware with spray points, which is simple and monotonous.

FAQ of HFM Melamine Molding Compound
1. Are you a manufacturer?
Yes, Huafu Chemicals is a manufacturer of melamine resin powder. Welcome to inquiry!
2. What's the packaging?
20 kg per bag. Craft paper bag with inner plastic liner.
3. How about your delivery?
About 2 weeks which also depends on the order quantity.
4. What country have you been exported to?
All over the world, such as Canada, the United States, Brazil, Russia, Indonesia, etc.