Huafu Chemicals is a factory specializing in the production of food-grade melamine tableware raw material. The melamine powder and melamine glazing powder produced by Huafu Chemicals are 100% pure and have good fluidity, which is very suitable for making various food contact tableware and utensils.
Therefore, the safety aspects of food contact materials that everyone is concerned about, and what specific tests need to be done, let's take a closer look today.
Background Introduction
In recent years, the quality and safety of food contact materials has been concerned by countries all over the world, and major trading countries have introduced increasingly stringent laws and regulations and improved supervision mechanisms to eliminate hidden quality hazards and strengthen the safety management of food contact materials.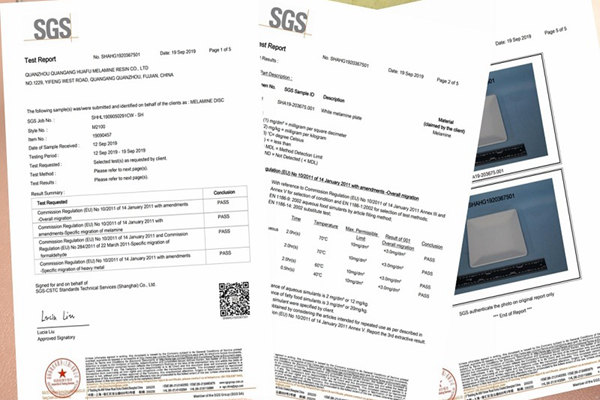 2019 test report of melamine disc made from Huafu Melamine Powder
SGS
As an internationally recognized inspection, identification, testing and certification organization, SGS is very authoritative in the safety testing of food contact materials.
According to the characteristics of laws and regulations on food contact materials formulated by different countries and regions around the world, the global food contact material safety requirements are roughly divided into three regions: Asia, Europe, and the United States.
1. United States Region USA
Involved
US FOOD GRADE: U.S. FDA CFR 21 PART 175-189&FDA CPG 7117.05, 06, 07.
Test items
Organic coating requirements, paper product requirements, wood requirements, ABS plastic requirements, food container sealing ring requirements, melamine resin requirements, nylon plastic requirements, PP, PE plastic requirements, PC plastic requirements, PET plastic requirements, PS plastic Requirements, polyfeng resin requirements, etc.
US FDA's general requirements for food contact containers and materials
The manufacturer can operate in accordance with the GMP system (Good Manufacturing Practice);

Use materials approved in the regulations (U.S. FDA CFR 21 Part 170-189);

The approved raw materials should meet the technical indicators in the specification (U.S. FDA CFR Part 170-189);

Any new materials entering the market must be reviewed and approved by U.S. FDA (similar to the new EU food-grade regulations 2004/1935/EC).
2. California 65
Test items
Glass and ceramic products used to store and carry food or beverages;

Glass and ceramic products (daily necessities) that are not in contact with food or beverages.
California 65 additional requirements for ceramics and glass products
Soluble lead and cadmium;

Parts in contact with food or beverages (such as the inside of cups and bowls);

External decoration parts (such as: the pattern and color of the surface of the utensil);

Cup edge part (the part within 20mm from the edge).
3. European region EU
Test items
Plastic, organic coating, silica gel, rubber, paper products, metal, wood products, ceramics, glass, enamel.
4.Germany, France, and Italy have additional requirements for food grade relevant regulation
Germany-LFGB;

France-French Décret 2007-766, DGCCRF Information Notice 2004/64 with amendments;

Italy-Law No.283 of 30.4.1962 and the Ministerial Decree of 21 March 1973 with its amendments.
5. Chinese market
Test items
Consumption of potassium permanganate;

Heavy metals;

Evaporation residue;

Color migration;

Formaldehyde;

Melamine.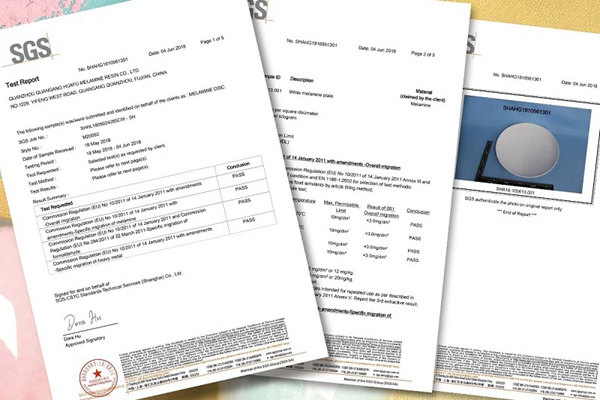 2018 test report of melamine plate made from Huafu Melamine Powder