Melamine moulding compound is also known as melamine powder. In order to know more about melamine powder, let's have a look at the production process of melamine molding compound.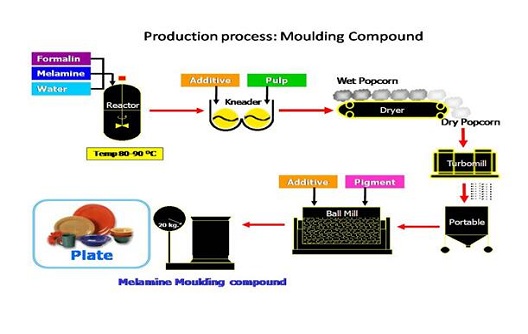 1. Reaction: Reaction is the most important step in the production process. The reaction equipment generally adopts stainless steel reactor. The formaldehyde, melamine and some additives will be polymerized into a resin through reaction.
2. Kneading: The resin which is obtained by kneading is generally mixed with pulp in the kneading machine. The product obtained after kneading is the coating body of resin and pulp.
3. Drying: The effect of drying process is to remove moisture from products. Usually, irregular granules will be obtained after dehydrate by using large belt dryer.
4. Ball Milling: Ball milling is usually carried out in the ball miller. The granules are finely ground through the shear and impact forces between the ceramic balls.
5. Screening: There are still some rough materials or impurities in the material after a long time of grinding. Those can be filtered through the vibrating screen in production.
Huafu Chemicals strictly implement the above production process with a high standard Quality Control System to make sure the powder quality. Therefore our melamine tableware powder has better brightness, density, drop resistance, corrosion resistance and so on.