Melamine Powder and Bamboo Fiber
Material

bamboo melamine powder

Certificates

Intertek, SGS

Use

Tableware Making for Kitchen, Hotel, Restaurant, Home Use

Features

1. Durable, shatter proof,not easy to break

2. Non-toxic,tasteless,heavy metal free

3. Bright color,smooth surface,ceramic-like finished

4. Food safe grade,can pass food grade test

5. Withstand temperature: -30°C~120°C

6. Dishwasher safe, microwave forbidden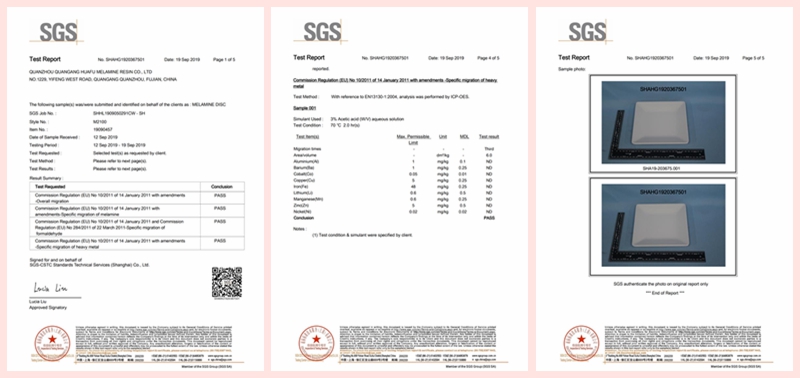 SGS Certificate
Specimen No. SGS Sample ID Description Material
SN1 SHA-19-203675.001 White melamine plate Melamine
Commission Regulation (EU) No 10/2011 of 14 January 2011 with amendments-Overall migration
Test Method: With reference to Commission Regulation (EU) No 10/2011 of 14 January 2011 Annex III and
Annex V for selection of condition and EN 1186-1:2002 for selection of test methods;
EN 1186-9: 2002 aqueous food simulants by article filling method;
EN 1186-14: 2002 substitute test;
Simulant used

Time

Temperature

Max. Permissible Limit

Result of 001 Overall migration

Conclusion

10% Ethanol (V/V) aqueous solution

2.0hr(s)

70℃

10mg/dm²

<3.0mg/dm²

PASS

3% Acetic acid (W/V)

aqueous solution

2.0hr(s)

70℃

10mg/dm²

<3.0mg/dm²

PASS

95% Ethanol

2.0hr(s)

60℃

10mg/dm²

<3.0mg/dm²

PASS

Isooctane

0.5hr(s)

40℃

10mg/dm²

<3.0mg/dm²

PASS

Frequently Asked Questions
Q1: Why Choose Huafu?
A1: -Rich experience and Taiwan technology
-Professional before and after service
-Stable quality and competitive prices
-Advanced testing and manufacturing equipment
-On-time delivery time and free sample
Q2: Can I have a sample powder first before placing an order?
A2: Yes, we provide you free sample powder, you only need to bear the freight.
Q3: What are our main products?
A3: - Melamine molding compound powder for making tableware
- Melamine glazing powder and granules for tableware making
Q4: Which payment method can be used by your company?
A4: T/T, L/C

Q5: What is your delivery time?
A5: It depends on the order quantity. The order delivery time is 15 days.

Q6: Is it allowed to visit your factory and workshop?
A6: Of course, we are very welcome you to visit our factory.
Factory Tour: