Melamine is a basic organic chemical intermediate product with a wide range of uses. It is widely used in wood, plastics, coatings, papermaking, textile, leather, electrical, pharmaceutical and other industries.
As we know, melamine is an important raw material for the production of melamine molding powder (important raw material for making melamine tableware), and its market trends are also something that lots of tableware factories are really concerned about.
Although the melamine market has risen steadily recently, there has been no major change in terms of demand. The export market continues to improve. The price increase of some melamine companies this time, in addition to the expectation of later equipment maintenance, is also one of its driving forces.

Continuously, corporate quotations have continued to rise steadily, and the supply of goods has remained tight, and the willingness to hold prices still exists. The downstream just needs to purchase, and there is resistance to high prices. Recently, some parking devices have resumed production, and the start-up load level of enterprises has slowly increased. Huafu Chemicals believes that the short-term domestic melamine market will maintain a trend of tight prices, while high-end transactions will slow down.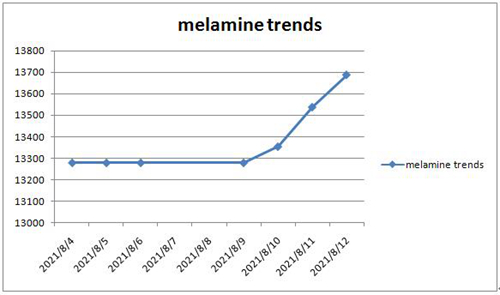 The price of melamine in China (The data is for reference only)
From the chart, we can see that from the beginning of August 2021, the price of melamine has risen steadily. Therefore, tableware manufacturers can make preparations for the production of raw materials to meet the needs of market demand.
Huafu Chemicals will continue to pay attention to the domestic supply of melamine. If there is an order that needs to be purchased in the near future, please confirm the order in time so that we can lock the delivery time and price of the raw materials in time.
Welcome to inquire. Mobile: +86 15905996312 Email: melamine@hfm-melamine.com