Melamine Powder and Bamboo Fiber
Material

melamine bamboo powder

Certificates

Intertek, SGS

Use

Tableware for Kitchen, Hotel, Restaurant, Home Use

Features

1.High quality standard

2.Easy to clean, Non-disposable

3.Good wear resistance

4.Unbreakable,Easy to carry

5. Withstand temperature: -30°C~120°C

6. Dishwasher Safe, Microwave forbidden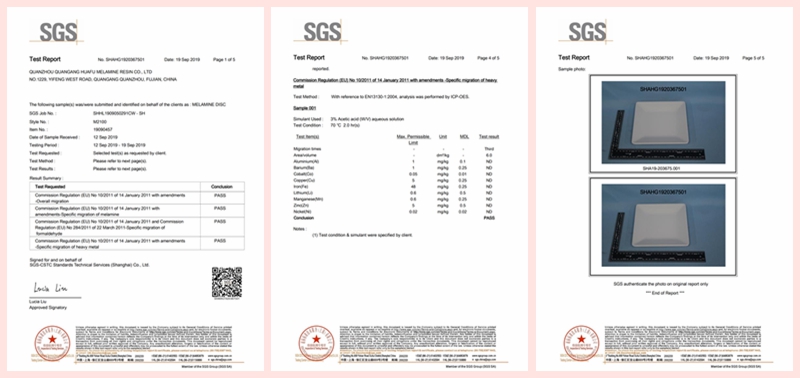 SGS Certificate
Specimen No. SGS Sample ID Description Material
SN1 SHA-19-203675.001 White melamine plate Melamine
Commission Regulation (EU) No 10/2011 of 14 January 2011 with amendments-Overall migration
Test Method: With reference to Commission Regulation (EU) No 10/2011 of 14 January 2011 Annex III and
Annex V for selection of condition and EN 1186-1:2002 for selection of test methods;
EN 1186-9: 2002 aqueous food simulants by article filling method;
EN 1186-14: 2002 substitute test;
Simulant used

Time

Temperature

Max. Permissible Limit

Result of 001 Overall migration

Conclusion

10% Ethanol (V/V) aqueous solution

2.0hr(s)

70℃

10mg/dm²

<3.0mg/dm²

PASS

3% Acetic acid (W/V)

aqueous solution

2.0hr(s)

70℃

10mg/dm²

<3.0mg/dm²

PASS

95% Ethanol

2.0hr(s)

60℃

10mg/dm²

<3.0mg/dm²

PASS

Isooctane

0.5hr(s)

40℃

10mg/dm²

<3.0mg/dm²

PASS

Frequently Asked Questions
Q: Are you the melamine manufacturer?
A: Yes, Huafu Chemicals is the manufacturer of 100% pure melamine tableware powder and glazing powder.
Q: Can I get sample before I purchase order?
A: Yes, we provide 2 kg sample powder free of charge.
If customers' need, 5kg or 10kg sample powder is available, just the courier charge is collected or you pay us the cost in advance.
Q: What's the delivery time?
A: Depends on the order quantity. It's usually 15 days.
Factory Tour: