The melamine products are durable to use with long service life, so they do not need to be replaced frequently. Therefore, the design of melamine products needs to be classic and attractive. It is very suitable for the mass market, such as collective dining halls, restaurants, fast food restaurants, and other large-scale tableware.
On the other hand, due to its simple production process and processing flow, it is suitable for niche markets, such as customized services for special need. This requires unique product design and design is the most important. The design of melamine products is mainly in three aspects: shape design of the ware, decorative design and process design.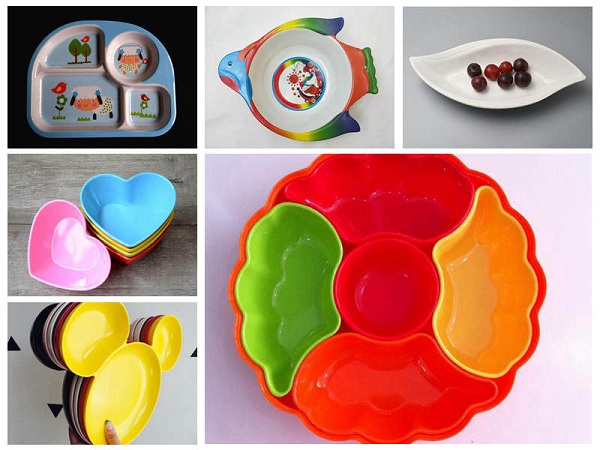 1. First is the product shape design. Except for the round traditional porcelain, the potential in product design is large.
For Japanese cuisine, square, rectangular, shaped and bionic shapes can be considered.

For children's tableware, geometric shapes, character shapes, animal shapes can be considered.

For canteens and fast-food restaurants, the combination shape can be considered.
2. The decoration of melamine products is completed during molding; the combination of patterns and shapes is very good. This provides convenience for decoration design. The foil paper used for decoration is four-color printing, and there is much room for pattern decoration.
Pattern design can be done in the form of bitmap, or in the form of vector diagram.

For product design positioning, you can use both traditional graphic decoration and modern graphic and expression techniques, such as cartoon form, anime form, illustration form, etc.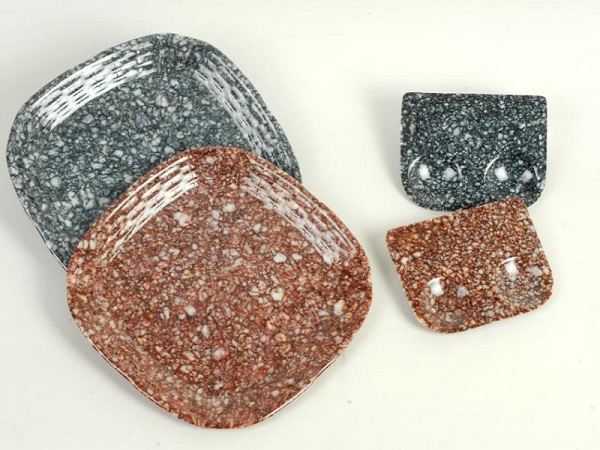 3. Another design potential is decoration in the production process. There are many colors in the raw materials, so the decoration design can be completed in the production process.
If we choose two-color raw materials, a decorative effect like lacquerware can appear (such as red inside and black outside)

If we use the method like "Magic" in ceramic tile, the decorative effects like marble and granite

If we use two-color or multi-color paste (heat the powder into a paste) raw materials, stir together but not fully mixed, you can make a decorative effect like twisted porcelain

Melamine products can not only imitate porcelain but also can design a lot of products like lampshade, socket, Mahjong, etc.
In short, design is the soul of the product, and even the golden key to open the market and expand the market.
P.S. Huafu Chemicals is specialized in the production of pure melamine moulding compound, melamine glazing powder and marble look melamine granule for tableware. If you are new to melamine industry and have a need for melamine powder, please contact us. We will support you with professional suggestions and technical guides。