Nowadays, restaurant chain industries, fast food restaurants, especially children's diet pay more and more attention to the health of tableware. Melamine tableware is widely used in these industries.
Is Melamine tableware safe? Will you buy the melamine tableware for your children?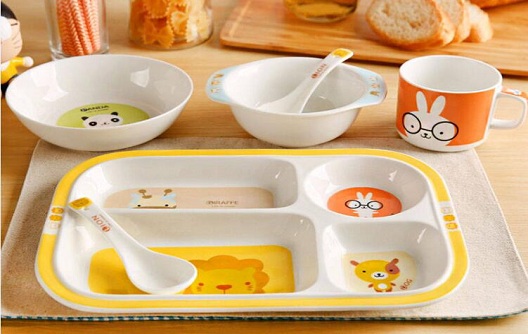 Let's know more about melamine. The composition of melamine is melamine resin. It belongs to the high polymer, abbreviated MF and its synthetic monomer composition is formaldehyde and melamine. It is widely used in the fast food industry and children's catering industry for its non-toxic, high temperature resistance, bright color, beautiful appearance and unbreakable performance.
In fact, experts said, "molding melamine resin has a stable chemical structure. There is no detection of melamine precipitates after long-term use. Even the urea formaldehyde resin and melamine powder surfaced production of tableware has also been a mature process, as long as manufacturers use the qualified process for production. The product itself does not exist safety risks, so customers can assure to use." That's why is important to choose one factory who can supply such qualified and SGS/FDA passed melamine moulding powder.
In a word, qualified melamine tableware is non-toxic and safe when used correctly. The suitable temperature of melamine tableware is minus 30 degrees Celsius to 120 degrees Celsius, so it cannot be used to be heated inside the microwave or oven.